09.08.2015 | Original Article | Ausgabe 4/2016 Open Access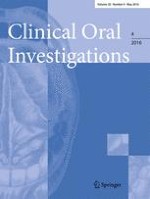 Mouse anti-RANKL antibody delays oral wound healing and increases TRAP-positive mononuclear cells in bone marrow
Zeitschrift:
Autoren:

Shinichiro Kuroshima, Zeina Al-Salihi, Junro Yamashita
Abstract
Objectives
Denosumab, a human monoclonal antibody (mAb) that neutralizes receptor activator for nuclear factor κB ligand (RANKL), is associated with osteonecrosis of the jaw. However, the effect of denosumab on oral wounds is unclear. The aim was to determine the effect of anti-RANKL mAb on oral wounds and bone marrow.
Materials and methods
The direct effect of the mAb on fibroblasts, macrophages, and osteoclasts were assessed in vitro. In vivo, mouse anti-RANKL mAb was administered to mice for 9 weeks prior to palatal bone denudation surgery. Mice were euthanized 3 weeks post-surgery, and wound healing was histomorphometrically analyzed. Long bones were assessed using micro-computed tomography, quantitative real-time polymerase chain reaction, and flow cytometry.
Results
The mAb had no effect on macrophages and fibroblasts but significantly suppressed osteoclast proliferation in vitro. The mAb treatment significantly increased bone mass by suppressing osteoclasts in vivo. The expression of pro-osteoclastic genes was promoted in the bone marrow of the mAb-administered animals. Consistently, the mAb significantly induced the development of tartrate-resistant acid phosphatase (TRAP)-positive mononuclear cells (MNCs) but not osteoclasts in bone marrow. The mAb treatment had no effect on gross healing of the palatal wounds. However, significant inflammation was retained in the connective tissue facing the once denuded bone surface.
Conclusions
Repair of the damaged palate was delayed, and significant inflammation was sustained in the connective tissue by anti-RANKL mAb treatment.
Clinical relevance
Denosumab impairs osteoclastic bone repair. Care should be exercised to minimize osseous trauma when invasive procedures are performed on patients taking denosumab.