01.12.2018 | Research | Ausgabe 1/2018 Open Access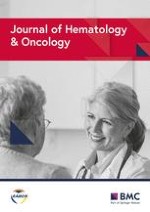 Mouse avatar models of esophageal squamous cell carcinoma proved the potential for EGFR-TKI afatinib and uncovered Src family kinases involved in acquired resistance
Zeitschrift:
Autoren:

Zhentao Liu, Zuhua Chen, Jingyuan Wang, Mengqi Zhang, Zhongwu Li, Shubin Wang, Bin Dong, Cheng Zhang, Jing Gao, Lin Shen
Wichtige Hinweise
Electronic supplementary material
Zhentao Liu and Zuhua Chen contributed equally to this work.
Abstract
Background
No approved targeted agents are available for esophageal squamous cell carcinoma (ESCC). Informative genomic analysis and mouse patient-derived xenografts (PDX) also called mouse avatar can greatly expedite drug discovery.
Methods
Six ESCC cell lines and 7 out of 25 PDX models derived from 188 biopsies with clear molecular features were employed to evaluate the sensitivity of several EGFR blockers in vitro and in vivo, as well as the underlying antitumor mechanisms of the most promising EGFR-TKI afatinib. Mechanisms involved in acquired resistance of afatinib were explored based on established resistant cell lines and PDX models followed by an attempt to reverse resistance.
Results
Compared with other EGFR blockers, the second-generation EGFR-TKI afatinib exerted superior antitumor effects in ESCC, and
EGFR
copy number gain (CNG) or overexpression was proposed to be predictive biomarkers. Afatinib played its antitumor effects by inhibiting EGFR downstream pathways, as well as inducing apoptosis and cell cycle arrest at G1. It was increased phosphorylation of Src family kinases (SFKs), rather than MET upregulation, that conferred to acquired resistance of afatinib. Dual blockade of EGFR and SFKs could overcome afatinib resistance and warrants validation in clinical practice.
Conclusion
Both ESCC cell lines and PDXs with
EGFR
CNG or overexpression are potential candidates for afatinib, and concomitant EGFR/SFKs inhibition could reverse afatinib-acquired resistance caused by SFKs activation in ESCC.