01.12.2018 | Research | Ausgabe 1/2018 Open Access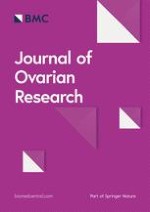 MRI appearance of ovarian serous borderline tumors of the micropapillary type compared to that of typical ovarian serous borderline tumors: radiologic-pathologic correlation
Zeitschrift:
Autoren:

Go Nakai, Takashi Yamada, Kazuhiro Yamamoto, Yoshinobu Hirose, Masahide Ohmichi, Yoshifumi Narumi
Abstract
Background
Serous borderline tumor (SBT) of the micropapillary type (SBT-MP) became one of the major pathological SBT diagnoses in addition to typical SBT, and was also defined as "non-invasive" low-gradeserous carcinoma according to the World Health Organization (WHO) classification in 2014. In this study, we investigated the MRI appearance of SBT-MP compared to that of typical SBT in order to identify specific imaging features of SBT-MP that correspond to pathological findings.
Methods
MR images of 6 histologically proven ovarian SBT-MP in four patients and 14 typical SBT in ten patients were reviewed retrospectively. Images were evaluated for laterality, size and morphology of the lesion and the solid component (SC) and signal intensity (SI) of the SC. MRI findings were correlated with pathological findings.
Results
The patients with SBT-MP (mean 26.3 years) were younger than those with typical SBT (mean 44.5 years). Postoperative staging in patients with SBT-MP was II in two and III in two cases, while staging for typical SBT was I in seven, II in one and III in two cases. The morphologic patterns of SBT-MP were a unilateral cystic mass with intracystic mural nodules (CwMN) (
n
 = 2), bilateral solid papillary masses (SM), and bilateral SM with CwMN. The pattern of typical SBT was CwMN (
n
 = 13) in all but one lesion (SM with CwMN). All SCs showed inhomogeneous slight hyperintensity on T2 weighted images (WI) and high SI on diffusion-WI (DWI) except for in one typical SBT. Although diffuse proliferation of the tumor cells in micropapillary projections with little stroma seemed to correspond to inhomogeneous slightly hyperintense foci in SC on T2WI and high SI on DWI, similar MR findings were observed in typical SBT in all lesions on T2WI and 11 of 12 lesions on DWI. In typical SBT, inhomogeneous slightly hyperintense foci in SC on T2WI and high SI on DWI corresponded to highly cellular foci with densely branched papillae.
Conclusion
Pathological findings and clinical behavior of SBT-MP differed from those of typical SBT, but morphology and SI of SC on MRI were similar, with papillary projections demonstrating inhomogeneous slight hyperintensity on T2WI and high SI on DWI.