23.07.2015 | Original Article | Ausgabe 2/2016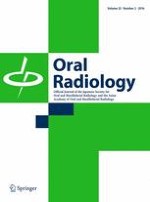 MRI findings of extranodal malignant lymphoma and squamous cell carcinoma in the head and neck regions
Zeitschrift:
Autoren:

Tomoko Shiraishi, Toru Chikui, Daisuke Inadomi, Marie Hashimoto, Chika Horio, Toyohiro Kagawa, Kunihiro Miwa, Kenji Yuasa
Abstract
Objectives
To compare magnetic resonance imaging (MRI) findings between patients with malignant lymphoma (ML) and squamous cell carcinoma (SCC) in the head and neck regions, and to show the characteristic findings for ML.
Methods
We analyzed 10 lesions in nine patients with ML and 25 lesions in 25 patients with SCC. Diffusion-weighted imaging, T1-weighted imaging, and T2-weighted imaging were performed for all lesions. We estimated the apparent diffusion coefficients (ADCs) with b-factors of 0, 500, and 1000 s/mm2, and obtained the means and standard deviations. In 29 cases, dynamic contrast-enhanced MRI (DCE-MRI) was performed and time–intensity curves were obtained. The peak time, maximum-to-initial ratio (MI ratio), end-to-maximum ratio, and end-to-initial ratio (EI ratio) were estimated. Receiver-operating characteristic analyses were performed to estimate the diagnostic power for these indices.
Results
The mean ADC for ML (0.762 ± 0.126 × 10
−3
mm
2
/s) was significantly lower than that for SCC (1.24 ± 0.22 × 10
−3
mm
2
/s,
p
< 0.0001). ML had a smaller MI ratio (2.13 ± 0.26) and smaller EI ratio (1.90 ± 0.29) than SCC (MI ratio: 2.46 ± 0.38,
p
= 0.033; EI ratio: 2.19 ± 0.29,
p
= 0.025). The area under the curve for the mean ADC (0.989) was higher than those for the MI ratio (0.779) and EI ratio (0.792).
Conclusions
The most characteristic findings for ML were extremely low ADCs. If the ADCs cannot be estimated because of severe susceptibility artifacts, DCE-MRI provides an alternative index for differentiating ML from SCC.