18.08.2017 | Ausgabe 3/2017 Open Access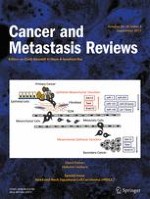 mTOR co-targeting strategies for head and neck cancer therapy
Zeitschrift:
Autoren:

Zhiyong Wang, Juan Callejas Valera, Xuefeng Zhao, Qianming Chen, J. Silvio Gutkind
Wichtige Hinweise
Zhiyong Wang and Juan Callejas Valera contributed equally to this work.
Abstract
Head and neck squamous cell carcinoma (HNSCC) is the sixth most common malignancy worldwide. There is an urgent need to develop effective therapeutic approaches to prevent and treat HNSCC. Recent deep sequencing of the HNSCC genomic landscape revealed a multiplicity and diversity of genetic alterations in this malignancy. Although a large variety of specific molecules were found altered in each individual tumor, they all participate in only a handful of driver signaling pathways. Among them, the PI3K/mTOR pathway is the most frequently activated, which plays a central role in cancer initiation and progression. In turn, targeting of mTOR may represent a precision therapeutic approach for HNSCC. Indeed, mTOR inhibition exerts potent anti-tumor activity in HNSCC experimental systems, and mTOR targeting clinical trials show encouraging results. However, advanced HNSCC patients may exhibit unpredictable drug resistance, and the analysis of its molecular basis suggests that co-targeting strategies may provide a more effective option. In addition, although counterintuitive, emerging evidence suggests that mTOR inhibition may enhance the anti-tumor immune response. These new findings raise the possibility that the combination of mTOR inhibitors and immune oncology agents may provide novel precision therapeutic options for HNSCC.