12.08.2016 | Original Article | Ausgabe 6/2016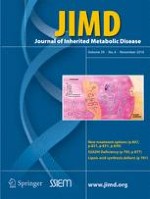 mTOR inhibitors rescue premature lethality and attenuate dysregulation of GABAergic/glutamatergic transcription in murine succinate semialdehyde dehydrogenase deficiency (SSADHD), a disorder of GABA metabolism
Zeitschrift:
Autoren:

Kara R. Vogel, Garrett R. Ainslie, K. Michael Gibson
Wichtige Hinweise
Communicated by: Niels Gregersen
Abstract
Recent studies have identified a role for supraphysiological gamma-aminobutyric acid (GABA) in the regulation of mechanistic target of rapamycin (mTOR), a protein kinase with pleiotropic roles in cellular development and homeostasis, including integration of growth factors and nutrient sensing and synaptic input in neurons (Lakhani et al.
2014
; Vogel et al.
2015
). Aldehyde dehydrogenase 5a1-deficient (
aldh5a1
-/-
) mice, the murine orthologue of human succinic semialdehyde dehydrogenase deficiency (SSADHD), manifest increased GABA that disrupts mitophagy and increases mitochondria number with enhanced oxidant stress. Treatment with the mTOR inhibitor, rapamycin, significantly attenuates these GABA-related anomalies. We extend those studies through characterization of additional rapamycin analog (rapalog) agents including temsirolimus, dual mTOR inhibitors [Torin 1 and 2 (Tor 1/ Tor 2), Ku-0063794, and XL-765], as well as mTOR-independent autophagy inducers [trehalose, tat-Beclin 1, tacrolimus (FK-506), and NF-449) in
aldh5a1
-/-
mice. Rapamycin, Tor 1, and Tor 2 rescued these mice from premature lethality associated with status epilepticus. XL-765 extended lifespan significantly and induced weight gain in
aldh5a1
-/-
mice; untreated
aldh5a1
-/-
mice failed to increase body mass. Expression profiling of animals rescued with Tor 1/Tor 2 and XL-765 revealed multiple instances of pharmacological compensation and/or correction of GABAergic and glutamatergic receptors, GABA/glutamate transporters, and GABA/glutamate-associated proteins, with Tor 2 and XL-765 showing optimal outcomes. Our studies lay the groundwork for further evaluation of mTOR inhibitors in
aldh5a1
-/-
mice, with therapeutic ramifications for heritable disorders of GABA and glutamate neurotransmission.