13.10.2018 | Preclinical study | Ausgabe 2/2019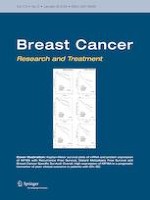 Mucin 2 (MUC2) modulates the aggressiveness of breast cancer
Zeitschrift:
Autoren:

Anna Astashchanka, Thomas M. Shroka, Britta M. Jacobsen
Wichtige Hinweise
Electronic supplementary material
Abstract
Purpose
Tumors that secrete large volumes of mucus are chemotherapy resistant, however, mechanisms underlying this resistance are unknown. One protein highly expressed in mucin secreting breast cancers is the secreted mucin, Mucin 2 (MUC2). While MUC2 is expressed in some breast cancers it is absent in normal breast tissue, implicating it in breast cancer. However, the effects of MUC2 on breast cancer are largely unknown. This study examined the role of MUC2 in modulating breast cancer proliferation, response to chemotherapy and metastasis.
Methods
Using patient derived xenografts we developed two novel cell lines, called BCK4 and PT12, which express high levels of MUC2. To modulate MUC2 levels, BCK4 and PT12 cells were engineered to express shRNA targeted to MUC2 (shMUC2, low MUC2) or a non-targeting control (shCONT, high MUC2) and proliferation and apoptosis were measured in vitro and in vivo. BCK4 cells with shCONT or shMUC2 were labeled with GFP-luciferase and examined in an experimental metastasis model; disease burden and site specific dissemination were monitored by intravital imaging and fluorescence guided dissection, respectively.
Results
Proliferation decreased in BCK4 and PT12 shMUC2 cells versus control cells both in vitro and in vivo. Chemotherapy induced minimal apoptosis in control cells expressing high MUC2 but increased apoptosis in shMUC2 cells containing low MUC2. An experimental metastasis model showed disease burden decreased when breast cancer cells contained low versus high MUC2. Treatment with Epidermal Growth Factor (EGF) increased MUC2 expression in BCK4 cells; this induction was abolished by the EGF-receptor inhibitor, Erlotinib.
Conclusions
MUC2 plays an important role in mediating proliferation, apoptosis and metastasis of breast cancer cells. MUC2 may be important in guiding treatment and predicting outcomes in breast cancer patients.