01.12.2015 | Case report | Ausgabe 1/2015 Open Access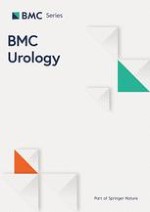 Mucinous adenocarcinoma of the bladder associated with long term suprapubic tube: a case report
Zeitschrift:
Autoren:

Tyler M. Bauman, Theodora A. Potretzke, Aaron M. Potretzke, Cary L. Siegel, Steven B. Brandes
Wichtige Hinweise
Competing interests
The authors declare that there is no competing of interest regarding the publication of this manuscript.
Authors' contributions
TMB, TAP, and AMP designed this study and drafted the manuscript. TAP and CLS interpreted radiographic images and provided the figure submitted herein. SBB was the attending physician and oversaw this project. All authors have read and approved the final manuscript.
Abstract
Background
Chronic indwelling catheters may induce histologic changes within the bladder, and these changes are sometimes pre-malignant. There are many documented cases of squamous cell carcinoma associated with indwelling catheters, but only three cases of catheter-associated adenocarcinoma have been reported. In this case report, we present radiographic findings of a case of mucinous adenocarcinoma of the bladder and suprapubic (SP) tract in a quadriplegic patient.
Case presentation
A 71-year-old male with a history of spinal cord injury presented with hematuria and SP discharge after SP catheterization for 51 years. CT urography was performed and revealed an irregular, infiltrative, and heterogeneous mass arising from the anterior bladder at the level of the suprapubic catheter and extending along the SP tube tract. Cystoscopy and biopsy revealed an adenocarcinoma of the anterior bladder and stoma with extensive associated mucin production and a background of acute and chronic inflammation. Surgical therapy included cystoprostatectomy, abdominal wall resection, ileal conduit creation, and abdominal wall reconstruction. The final diagnosis was a high-grade, T2a/N0/M0 (Stage II) mucinous adenocarcinoma of the bladder. There has been no evidence of tumor recurrence over the previous 5 years.
Conclusion
Few cases of adenocarcinoma associated with long term indwelling catheter have been reported in the literature, and due to the rarity of this disease process, the prognosis with surgical therapy is not well known. The patient described herein has been free of recurrence for the previous five years, suggesting that surgery is a viable management option for these patients.