17.10.2016 | Review | Ausgabe 6/2016 Open Access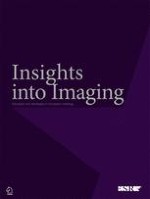 Multi-modal imaging of the subscapularis muscle
Zeitschrift:
Autoren:

Mona Alilet, Julien Behr, Jean-Philippe Nueffer, Benoit Barbier-Brion, Sébastien Aubry
Abstract
The subscapularis (SSC) muscle is the most powerful of the rotator cuff muscles, and plays an important role in shoulder motion and stabilization. SSC tendon tear is quite uncommon, compared to the supraspinatus (SSP) tendon, and, most of the time, part of a large rupture of the rotator cuff. Various complementary imaging techniques can be used to obtain an accurate diagnosis of SSC tendon lesions, as well as their extension and muscular impact. Pre-operative diagnosis by imaging is a key issue, since a lesion of the SSC tendon impacts on treatment, surgical approach, and post-operative functional prognosis of rotator cuff injuries. Radiologists should be aware of the SSC anatomy, variability in radiological presentation of muscle or tendon injury, and particular mechanisms that may lead to a SSC injury, such as coracoid impingement.
Teaching Points
•
Isolated subscapularis (SSC) tendon tears are uncommon.
•
Classically, partial thickness SSC tendon tears start superomedially and progress inferolaterally.
•
Long head of biceps tendon medial dislocation can indirectly signify SSC tendon tears.
•
SSC tendon injury is associated with anterior shoulder instability.
•
Dynamic ultrasound study of the SSC helps to diagnose coracoid impingement.