01.10.2014 | Original Article | Ausgabe 5/2014 Open Access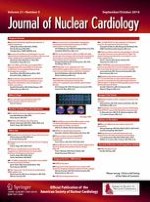 Multicenter cross-calibration of I-123 metaiodobenzylguanidine heart-to-mediastinum ratios to overcome camera-collimator variations
Zeitschrift:
Autoren:

MD Kenichi Nakajima, PhD Koichi Okuda, MD Mana Yoshimura, MD Shinro Matsuo, MD Hiroshi Wakabayashi, RT Yasuhiro Imanishi, MD Seigo Kinuya
Introduction
I-123 metaiodobenzylguanidine (MIBG) has been used in patients with chronic heart failure, ischemic heart disease, and cardiomyopathy. The most widely accepted application, however, is in patients with heart failure.
1
,
2
More than 20-year experiences in this field has been accumulated in Japan, and use of MIBG in prognostic evaluation is described in Japanese Circulation Society's Nuclear Cardiology Guidelines.
3
The neurological application of MIBG has also become common, in particular in patients with Lewy-body diseases.
4
,
5
In most of the MIBG studies, the quantification method was essential in differentiating normal and abnormal sympathetic activity, and also high-risk and low-risk groups. The heart-to-mediastinum ratio (HMR) was a simple ratio of the heart and background, and generally good reproducibility has been reported in a single center analysis.
6
,
7
When multiple centers are involved in a study, however, there are some preferences for the location of regions of interest (ROIs), which potentially cause variations among institutions and published studies. More importantly, HMR based on the medium-energy (ME) collimator showed higher values than that based on low-energy (LE) collimators.
8
The nomenclature of collimators is classified into two major groups of LE and ME, but the camera vendors have created various types of collimators depending on the purpose in order to achieve good balance among resolution, sensitivity, and applicable energy range. The low-medium energy (LME) collimator is one of the examples created to cover the higher energy scatter portion of the
123
I energy spectrum, in accordance with the widely used
123
I-labeled radiopharmaceutical in Japan.
We have already made a phantom for MIBG planar imaging to cross-calibrate two acquisition conditions.
9
As an extension of this idea, the purposes of this study were to accumulate MIBG data for the HMR from common vendors, and to establish the cross-calibration method among various camera and collimator combinations. Our hypothesis in this study is that all camera-collimator combinations can be unified to a standard HMR, so that comparison among multiple centers and the previous studies can be practically performed. The validity was also tested in clinical studies.
Methods
Results
Discussion
As a number of MIBG studies have been performed using the HMR in fields of cardiology and neurology, this study focused on unifying the methods for calculating HMR. Using the calibration phantom experiments and measured conversion coefficients specific for individual camera-collimator systems, all the HMRs could be converted to standardized HMRs using the average conversion coefficient of the commonest ME types. The standardized HMRs were applicable to multiple institutions in the range of normal to low HMR values.
In 225 experiments of 84 institutions, the similar collimators, for example LEHR and LEGP, did not show the same conversion coefficient, depending on the vendors. Even in the same vendor, the ELEGP collimator made from 2002 to 2004 showed significantly different values compared with that made after 2008, and the latter showed higher HMRs. This sort of modification and improvement of collimator design has been performed in companies, although the name of collimators was the same. According to the results of this study, the collimator types might be classified into 7 or 8 major subgroups. Hence, two types, namely LE and ME types, are considered a rough classification at present, and the borders of LE and ME types are obscure.
Limitations
Even after the standardization based on the phantom study, we found slight underestimation of HMRs in the range of HMR >2.5, probably due to the structural difference between the phantom and the human body. One of the important differences in human is complicated down-scatter activity from the high-energy photons coming from outside of the filed of view, such as liver, kidney, and bladders.
While complete correction from a physical point of view is ideal in a whole range, the major purpose of standardization is its use in determining a threshold for prognosis and a lower normal range. From this consideration, the most important range of HMR was around 1.6-1.7 for discriminating good and bad prognosis, and a threshold of 2.0-2.2 between normal and abnormal.
2
,
12
,
13
,
16
In other words, the normal or higher range has no prognostic meaning. Finally, standard HMR used averaged values from 44 experiments with the commonest ME types, which may be modified when required.
New Knowledge Gained
In terms of HMR calculation, the collimator type was classified not simply into two LE and ME types but includes various intermediate types. Using the cross-calibration phantom method, however, institutional HMRs can be converted to standardized HMRs comparable to the commonest ME-collimator. The cross-calibration method works well in the range of low and normal HMRs when classifying into main risk groups.
Acknowledgments
Authors thank physicians and technologists participating in this study. The authors also appreciate the collaborations of Ms. Yumiko Kirihara and Mr. Kouta Aoyagi of FUJIFILM RI Pharma, Co. Ltd. in assisting phantom experiments. This work was partly supported by Grants-in-Aid for Scientific Research in Japan. The authors would like to thank Mr. Ronald Belisle for his editorial assistance of the manuscript.
Conflict of interest
Kenichi Nakajima, MD, PhD has a collaborative research work for developing software with FUJIFILM RI Pharma, Co. Ltd, Tokyo, Japan.
Open Access
This article is distributed under the terms of the Creative Commons Attribution License which permits any use, distribution, and reproduction in any medium, provided the original author(s) and the source are credited.
Appendix
Participated institutions included Asahikawa City Hospital (Asahikawa), Bell Land General Hospital (Sakai), Chubu Medical Center Kizawa Memorial Hospital (Minokamo), Chuno Kosei Hospital (Seki), Dokkyo Medical University (Shimotsuga), Fukushima Medical University (Fukushima), Gifu Prefectural General Medical Center (Gifu), Gifu University Hospital (Gifu), Haibara General Hospital (Makinohara), Hakodate Municipal Hospital (Hakodate), Higashiosaka City General Hospital (Higashiosaka), Hiroshima Red Cross Hospital & Atomic-bomb Survivors Hospital (Hiroshima), Iizuka Hospital (Iizuka), Ikeda Municipal Hospital (Ikeda), Itami City Hospital (Itami), Japanese Red Cross Asahikawa Hospital (Asahikawa), Japanese Red Cross Ashikaga Hospital (Ashikaga), Japanese Red Cross Gifu Hospital (Gifu), Japanese Red Cross Kitami Hospital (Kitami), Japanese Red Cross Kyoto Daini Hospital (Kyoto), Jichi Medical University Hospital (Shimotsuke), Juntendo Tokyo Koto Geriatric Medical Center (Tokyo), Juntondo University Hospital (Tokyo), Juntondo University Nerima Hospital (Tokyo), Juntondo University Urayasu Hospital (Urayasu), Kanagawa Prefectural Ashigarakami Hospital (Ashigarakami-gun), Kanazawa Municipal Hospital (Kanazawa), Kanazawa University Hospital (Kanazawa), Kawasaki Hospital (Kobe), Keio Univeristy Hospital (Tokyo), Kin-ikyo Chuo Hospital (Sapporo), Konan Kakogawa Hospital (Kakogawa), Kyoto Prefectural University of Medicine - University Hospital (Kyoto), Mimihara Oimatsu Clinic (Sakai), Murakami Memorial Hospital Asahi University (Gifu), Nagaoka Red Cross Hospital (Nagaoka), Nagasaki Rousai Hospital (Sasebo), Nagoya City East Medical Center (Nagoya), National Center for Geriatrics and Gerontology (Obu), National Center for Global Health and Medicine (Tokyo), National Cerebral and Cardiovascular Center (Suita), National Hospital Organization Disaster Medical Center (Tachikawa), National Hospital Organization Kumamoto Saishunso National Hospital (Koshi), National Hospital Organization Minami Kyoto Hospital (Joyo), National Hospital Organization Okinawa National Hospital (Ginowan), National Hospital Organization Tokyo National Hospital (Kiyose), National Hospital Organization Yokohama Medical Center (Yokohama), National Kyushu Medical Center (Fukuoka), Nippon Medical School Hospital (Tokyo), Nishikobe Medical Center (Kobe), NTT Medical Center Tokyo (Tokyo), Obihiro-Kosei General Hospital (Obihiro), Ogaki Municipal Hospital (Ogaki), Okayama Kyokuto Hospital (Okayama), Okayama University Hospital (Okayama), Osaka General Medical Center (Osaka), Rumoi Municipal Hospital (Rumoi), Saiseikai Kumamoto Hospital (Kumamoto), Saiseikai Noe Hospital (Osaka), Sapporo City General Hospital (Sapporo), Sapporo-Kosei General Hospital (Sapporo), Seihoku Chuo Hospital (Goshogawara), Shizuoka General Hospital (Shizuoka), Showa General Hospital (Kodaira), Sunagawa City Medical Center (Sunagawa), Surugadai Nihon University Hospital (Tokyo), Suzuka Central General Hospital (Suzuka), Tenri Hospital (Tenri), The Cardiovascular Institute Hospital (Tokyo), The Jikei University Hospital (Tokyo), Toho University Omori Hospital (Tokyo), Tohoku University Hospital (Sendai), Tokyo Medical University (Tokyo), Tokyo Medical University Hospital (Hachioji), Tokyo Metropolitan Geriatric Hospital and Institute of Gerontology (Tokyo), Tokyo Women's Medical University Hospital (Tokyo), Toranomon Hospital (Tokyo), Tottori University Hospital (Yonago), Toyonaka Municipal Hospital (Toyonaka), Tsukuba University Hospital (Tsukuba), Yogogawa Christian Hospital (Osaka), Yokohama City University Hospital (Yokohama), Yokohama City University Medical Center (Yokohama), and Yokohama Minami Kyousai Hospital (Yokohama).