14.09.2017 | Original Article | Ausgabe 5/2017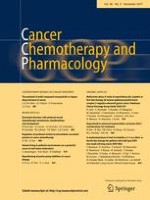 Multicenter phase II study of capecitabine plus cisplatin as first-line therapy for human epidermal growth factor receptor 2-negative advanced gastric cancer: Yokohama Clinical Oncology Group Study YCOG1107
Zeitschrift:
Autoren:

Kei Sato, Chikara Kunisaki, Takashi Kosaka, Ryo Takagawa, Masazumi Takahashi, Yusuke Izumisawa, Hiroshi Miyamoto, Sho Sato, Yusaku Tanaka, Naotaka Yamaguchi, Jun Kimura, Hidetaka A. Ono, Hirochika Makino, Hirotoshi Akiyama, Itaru Endo
Abstract
Purpose
S-1 plus cisplatin therapy is the recommended standard first-line regimen for human epidermal growth factor receptor 2 (HER-2)-negative advanced unresectable or recurrent gastric cancer (AGC) in the Japanese Gastric Cancer Treatment Guidelines. By contrast, capecitabine plus cisplatin (XP) therapy has been second-line therapy for these patients. This prospective study aimed to evaluate the efficacy and safety of XP as a first-line regimen for HER2-negative patients with AGC.
Methods
In this multicenter, open-label, phase II study, patients received cisplatin (80 mg/m2 i.v. day 1) plus capecitabine (1000 mg/m2 orally, twice daily, days 1–14) at 3 week intervals until disease progression or non-continuation for various reasons. The primary endpoint was overall response rate; secondary endpoints included progression-free survival (PFS), overall survival (OS), and toxicity profiles.
Results
Thirty-six patients with HER2-negative AGC were enrolled in this study. Of these, 16 patients with evaluable lesions were assessable for efficacy and 36 were assessable for toxicity. One patient achieved a complete response and five partial responses. The overall response rate was 37.5% [95% confidence interval (CI) 13.7–61.2%] calculated on an intention-to-treat basis. The median PFS and median OS were 5.2 months (95% CI 4.2–6.2 months) and 16.9 months (95% CI 5.8–27.9 months), respectively. Treatment-related adverse events were generally mild; the most common grade 3/4 adverse event was neutropenia (27.8%), followed by anorexia (19.4%), leucopenia (16.7%), anemia (16.7%), and nausea (13.9%).
Conclusion
XP as first-line therapy is effective and well tolerated by patients with HER2-negative AGC.