01.12.2015 | Study protocol | Ausgabe 1/2015 Open Access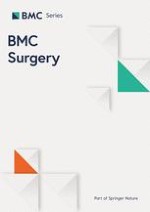 Multicentre randomized controlled trial comparing ferric(III)carboxymaltose infusion with oral iron supplementation in the treatment of preoperative anaemia in colorectal cancer patients
Zeitschrift:
Autoren:

W. A. A. Borstlap, C. J. Buskens, K. M. A. J. Tytgat, J. B. Tuynman, E. C. J. Consten, R. C. Tolboom, G. Heuff, N. van Geloven, B. A. van Wagensveld, C. A. C.A. Wientjes, M. F. Gerhards, S. M. M. de Castro, J. Jansen, A. W. H. van der Ven, E. van der Zaag, J. M. Omloo, H. L. van Westreenen, D. C. Winter, R. P. Kennelly, M. G. W. Dijkgraaf, P. J. Tanis, W. A. Bemelman
Wichtige Hinweise
Competing interests
The ferric(III)carboxymaltose infusion is being paid by Vifor Pharma. Vifor Pharma supplied an unrestricted start-up grant of €150.000,- for this investigator initiated study. As it is an investigator initiated study Vifor Pharma didn't have any influence on the formation of the trial-protocol. Nor will they intervene in the accrual of patients or the analyses of the data. The presentation of the results is free of any obligations towards Vifor Pharma. There are no other competing interests to be declared by any of the authors.
Authors' contributions
All authors have made substantial contributions to the conception and design of this study; have been involved in drafting the manuscript (WB, CB,KT,MD,PT and WAB) or revising it critically for important intellectual content. JT,EC, RT, GH, NG, BW, CW, MG, SC, JJ, AV, EZ, JO, HW, DW, RK have made contributions to the design of this study. Due to the multicentre design the have made substantial contributions to the organization of this trial. All authors read and approved the final manuscript; and are local investigators at the participating centres.
Abstract
Background
At least a third of patients with a colorectal carcinoma who are candidate for surgery, are anaemic preoperatively. Preoperative anaemia is associated with increased morbidity and mortality. In general practice, little attention is paid to these anaemic patients. Some will have oral iron prescribed others not. The waiting period prior to elective colorectal surgery could be used to optimize a patients' physiological status. The aim of this study is to determine the efficacy of preoperative intravenous iron supplementation in comparison with the standard preoperative oral supplementation in anaemic patients with colorectal cancer.
Methods/Design
In this multicentre randomized controlled trial, patients with an M0-staged colorectal carcinoma who are scheduled for curative resection and with a proven iron deficiency anaemia are eligible for inclusion. Main exclusion criteria are palliative surgery, metastatic disease, neoadjuvant chemoradiotherapy (5 × 5 Gy = no exclusion) and the use of Recombinant Human Erythropoietin within three months before inclusion or a blood transfusion within a month before inclusion. Primary endpoint is the percentage of patients that achieve normalisation of the haemoglobin level between the start of the treatment and the day of admission for surgery. This study is a superiority trial, hypothesizing a greater proportion of patients achieving the primary endpoint in favour of iron infusion compared to oral supplementation. A total of 198 patients will be randomized to either ferric(III)carboxymaltose infusion in the intervention arm or ferrofumarate in the control arm. This study will be performed in ten centres nationwide and one centre in Ireland.
Discussion
This is the first randomized controlled trial to determine the efficacy of preoperative iron supplementation in exclusively anaemic patients with a colorectal carcinoma. Our trial hypotheses a more profound haemoglobin increase with intravenous iron which may contribute to a superior optimisation of the patient's condition and possibly a decrease in postoperative morbidity.