01.12.2018 | Case report | Ausgabe 1/2018 Open Access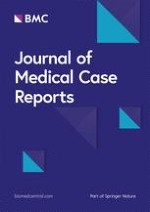 Multicentric Castleman's disease in human immunodeficiency virus infection: two case reports
Zeitschrift:
Autoren:

Amanda Caroline Ribeiro Sales, Valter Romão de Souza Junior, Marta Iglis de Oliveira, Claudia Azevedo Braga Albuquerque, Evônio de Barros Campelo Júnior, Paulo Sérgio Ramos de Araújo
Abstract
Background
Castleman's Disease is a rare B-cell lymphoproliferative disease. It is mostly benign and is characterized by non-neoplastic lymph node hypertrophy, associated with infection by human herpesvirus-8 in people with the human immunodeficiency virus/acquired immunodeficiency syndrome. Although the unicentric or localized form presents as benign, the multifocal form can manifest severe systemic symptoms. We report two unusual cases of men presenting cervical enlarged lymph nodes that were believed to be infectious.
Case presentation
The first case is a 41-year-old feoderm man who presented to the Department of Infectious Diseases of the Hospital das Clínicas in May 2015, with irregular fever history (38–39 °C), dyspnea, weight loss (8 kg/1 year), and asthenia with increased cervical lymph nodes of 1-year duration. His immunohistochemical diagnosis presented Castleman's disease in plasmacytic/diffuse form. In the second case, a 35-year-old feoderm man presented at the same hospital with multiple cervical enlarged lymph nodes and histopathological evidence of Castleman's disease associated with human herpesvirus-8.
Conclusion
Considering the importance of differential diagnosis of lymphoid disorders, Castleman's disease is a challenging diagnosis in people living with human immunodeficiency virus/acquired immunodeficiency syndrome and can be easily misdiagnosed when lymphoid disorders are present in the human immunodeficiency virus/acquired immunodeficiency syndrome population due to nonspecific symptoms and signs.