10.09.2020 | Ausgabe 4/2020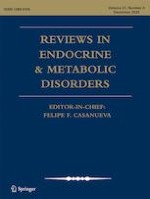 Multidisciplinary management of acromegaly: A consensus
Zeitschrift:
Autoren:

Andrea Giustina, Garni Barkhoudarian, Albert Beckers, Anat Ben-Shlomo, Nienke Biermasz, Beverly Biller, Cesar Boguszewski, Marek Bolanowski, Jens Bollerslev, Vivien Bonert, Marcello D. Bronstein, Michael Buchfelder, Felipe Casanueva, Philippe Chanson, David Clemmons, Maria Fleseriu, Anna Maria Formenti, Pamela Freda, Monica Gadelha, Eliza Geer, Mark Gurnell, Anthony P. Heaney, Ken K. Y. Ho, Adriana G. Ioachimescu, Steven Lamberts, Edward Laws, Marco Losa, Pietro Maffei, Adam Mamelak, Moises Mercado, Mark Molitch, Pietro Mortini, Alberto M. Pereira, Stephan Petersenn, Kalmon Post, Manuel Puig-Domingo, Roberto Salvatori, Susan L. Samson, Ilan Shimon, Christian Strasburger, Brooke Swearingen, Peter Trainer, Mary L. Vance, John Wass, Margaret E. Wierman, Kevin C. J. Yuen, Maria Chiara Zatelli, Shlomo Melmed
Wichtige Hinweise
Publisher's note
Springer Nature remains neutral with regard to jurisdictional claims in published maps and institutional affiliations.
Abstract
The 13th Acromegaly Consensus Conference was held in November 2019 in Fort Lauderdale, Florida, and comprised acromegaly experts including endocrinologists and neurosurgeons who considered optimal approaches for multidisciplinary acromegaly management. Focused discussions reviewed techniques, results, and side effects of surgery, radiotherapy, and medical therapy, and how advances in technology and novel techniques have changed the way these modalities are used alone or in combination. Effects of treatment on patient outcomes were considered, along with strategies for optimizing and personalizing therapeutic approaches. Expert consensus recommendations emphasize how best to implement available treatment options as part of a multidisciplinary approach at Pituitary Tumor Centers of Excellence.