01.12.2015 | Research article | Ausgabe 1/2015 Open Access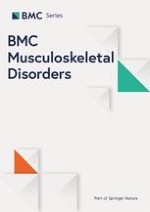 Multilevel thoracic ossification of ligamentum flavum coexisted with/without lumbar spinal stenosis: staged surgical strategy and clinical outcomes
Zeitschrift:
Autoren:

Wen-jing Li, Shi-gong Guo, Zhi-jian Sun, Yu Zhao
Wichtige Hinweise
Competing interests
The authors declare that they have no competing interests. No benefits in any form have been or will be received from a commercial party related directly or indirectly to the subject of this manuscript.
Authors' contributions
WJL participated in the planning of the study, acquisition of data, data analysis and drafted the manuscript. SGG participated in design of the study and revision the manuscript. ZJS participated in design of the study and data analysis. YZ conceived the study, and participated in its design and coordination and helped to draft the manuscript. All authors read and approved the final manuscript.
Abstract
Background
Thoracic ossification of ligamentum flavum (TOLF) is a progressively disabling disease. Isolated or continuous TOLF has been frequently reported in literature, however there are very few reports of multilevel or non-continuous TOLF. The purpose of the study was to discuss the surgical strategy of multilevel TOLF and evaluate safety and efficacy of a two-stage operation regimen.
Methods
From October 2007 to May 2014, eleven patients (4 males, 7 females) that underwent two-stage surgery for multilevel spinal stenosis were retrospectively reviewed. The follow-up period lasted at least 12 months. Demographic data, radiological findings as well as operative data were collected. Postoperative functional outcomes evaluated by the modified Japanese Orthopedic Association score (mJOA) and complications were analyzed.
Results
The patients ranged in age from 30 to 65 years (average, 50.2 ± 11.8 years), and comprised 4 men and 7 women. All patients exhibited significant improvements in neurological deficits. The mJOA score improved from a mean of 3.5 ± 2.2 preoperatively to 4.6 ± 2.3 before second-stage surgery and to 7.5 ± 2.2 at final follow-up. The improvement was statistically significant in the average mJOA improvement rate at final follow-up. No staging-related complications were noted in this study.
Conclusions
Staged surgery can effectively achieve neurological functional recovery in patients with multi-segment spinal stenosis in thoracic and lumbar regions, with favorable efficacy and safety. Yet, slight neurological deterioration was observed during the intervals of these two index surgeries.