23.02.2020 | Original Article | Ausgabe 5/2020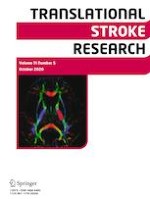 Multinucleated Giant Cells in Experimental Intracerebral Hemorrhage
Zeitschrift:
Autoren:

Jialiang Wei, Ming Wang, Chaohui Jing, Richard F. Keep, Ya Hua, Guohua Xi
Wichtige Hinweise
Publisher's Note
Springer Nature remains neutral with regard to jurisdictional claims in published maps and institutional affiliations.
Abstract
Macrophage phagocytosis plays an important role in hematoma clearance after intracerebral hemorrhage (ICH). This study examined the characteristics of multinucleated giant cells (MGCs), a group of macrophages with multiple nuclei, in a mouse ICH model. Whether MGCs could be increased by treatment with a CD47 blocking antibody and decreased by treatment with clodronate liposomes were also examined. ICH was induced via autologous blood injection. Male adult C57BL/6 mice in different groups had (1) ICH alone; (2) ICH with anti-CD47 blocking antibody or control IgG; and (3) ICH with anti-CD47 antibody combined with clodronate liposomes or control liposomes. The effect of anti-CD47 antibody on MGC formation was also tested in females. Brains were harvested at days 3 or 7 for brain histology. Many MGCs were found at day 3 post-ICH, but were reduced at day 7. MGCs phagocytosed many red blood cells and were heme oxygenase-1, ferritin, YM-1, and iNOS positive. CD47 blocking antibody injection increased MGC numbers in the peri-hematomal zone and in the hematoma in both sexes. Co-injection of clodronate liposomes depleted MGCs in both the hematoma core and the peri-hematomal area. In conclusion, MGCs represent a macrophage/microglia subtype with strong phagocytosis capacity. MGCs exhibited not only an M2 but also an M1 phenotype and appeared involved in hemoglobin degradation. Anti-CD47 antibody boosted the number of MGCs, which may contribute to enhance hematoma clearance. Understanding the exact roles of MGCs in ICH may reveal novel targets for ICH treatment.