29.10.2015 | Original Paper | Ausgabe 3/2016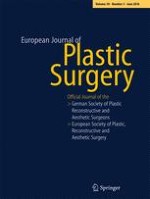 Multiple perforator preserving SGAP flap for the reconstruction of sacral wounds
Zeitschrift:
Autoren:

B. Ersen, R. Kahveci, I. Aksu, O. Tunalı
Abstract
Background
Many surgical methods have been used to repair sacral sores, including primary closure, skin grafting, local random, and muscle flaps. After the description of the gluteal perforator-based flap, the perforator-based fasciocutaneous flap became popular in lumbosacral tissue defect reconstruction.
Methods
Multiple perforatory preserving superior gluteal artery perforator (SGAP) flap was performed in eight patients with lumbosacral soft tissue defects from May 2014 to April 2015. Five men and three women received the operation. The causes of defects were pilonidal sinus defect in five patients and pressure ulcer in three patients. All patients were mobile and did not have any systematic diseases.
Results
The average age of the patients was 45 years. The follow-up period was 2 to 12 months (mean, 6 months). The size of the flap ranged from 8 × 10 to 10 × 16 cm. All flaps healed completely without any vascular problem. Only one patient suffered from dehiscence. The average operative time was 160 min (range 120–200 min). Patients were immediately allowed to lie on the operated area (but no longer than 1 h at a time for the first 48 h). They were allowed to gradually sit after 72 h. The mean time for removal of suction drains was 8 days (5–14) while mean duration of hospital stay was 7.5 days (3–14 days).
Conclusions
It was seen that multiple perforatory preserving SGAP flap is a safe and reliable flap. No vascular complications was seen in postoperative period. Preserving multiple perforators in SGAP flap is time-consuming and increases the necessary time for flap harvest which is the main drawback of our technique.
Level of Evidence: Level IV, therapeutic study