01.12.2017 | Case Report | Ausgabe 1/2017 Open Access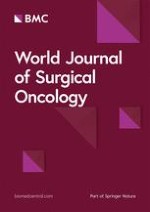 Multiple rapidly growing desmoid tumors that were difficult to distinguish from recurrence of rectal cancer
Zeitschrift:
Autoren:

Koki Nakanishi, Dai Shida, Shunsuke Tsukamoto, Hiroki Ochiai, Junichi Mazaki, Hirokazu Taniguchi, Yukihide Kanemitsu
Abstract
Background
Intra-abdominal desmoid tumors are usually slow growing and solitary, but multifocal desmoid tumors develop on rare occasions. Diagnosing desmoid tumors before histological examination of a surgical biopsy is often difficult. In particular, if a patient has a prior history of malignancy, it may be difficult to differentiate between these lesions and disease recurrence or metastasis.
Case presentation
We present a rare case of multiple rapidly growing intra-abdominal desmoid tumors after surgical trauma, without familial adenomatous polyposis. A 51-year-old male underwent abdominal perineal resection with lateral lymph node dissection after neoadjuvant chemotherapy for lower rectal cancer. Follow-up computed tomography (CT), performed 6 months after primary surgery, showed a 20-mm solitary mass in the pelvic mesentery. Another CT scan, performed 3 months later, revealed that the mass had grown to 35 mm in size and that two new masses had formed. Based on imaging studies and his medical history, it was difficult to distinguish the desmoid tumors from recurrence of rectal cancer. Curative resection was chosen for therapeutic diagnosis. The pathological diagnosis was multiple mesenteric desmoid tumors.
Conclusions
Desmoid tumors should not be excluded as a differential diagnosis for intra-abdominal masses after intra-abdominal surgery, even in cases of rapidly growing multiple masses.