01.12.2014 | Research article | Ausgabe 1/2014 Open Access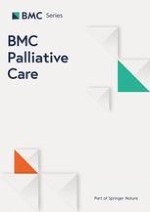 Multiple sclerosis and palliative care - perceptions of severely affected multiple sclerosis patients and their health professionals: a qualitative study
Zeitschrift:
Autoren:

Heidrun Golla, Maren Galushko, Holger Pfaff, Raymond Voltz
Wichtige Hinweise
Electronic supplementary material
The online version of this article (doi:
10.​1186/​1472-684X-13-11
) contains supplementary material, which is available to authorized users.
Competing interests
The authors declare that they have no competing interests.
Authors' contributions
RV, HP, MG conceptualized the study. RV obtained funding. HG and MG were responsible for the overall study coordination including recruitment, data collection and data analysis. HG wrote the manuscript and MG, RV and HP commented on it and made further suggestions until the final form was reached which was approved by all authors.
Abbreviations
EDSS
Expanded disability status score.
Background
Despite clear advances in research and treatment [
1
] Multiple Sclerosis (MS) remains a chronic, inflammatory, incurable disease of the central nervous system. Chronic progressive MS develops among 30-40% of patients within 10 to 15 years after diagnosis, with a significant proportion of patients having to cope with severe physical disability as well as psychological implications [
2
–
4
]. Approximately half of all MS patients die from MS itself or related complications, including accidents, severe falls, and suicide, evincing a culmination of severe psychological problems; approximately another third die from cardiac and vascular disease, cancer, infectious and respiratory diseases [
5
–
7
]. MS patients' level of suffering from their "burden of symptoms" is comparable with that of palliative cancer patients [
8
], and MS patients and health professionals identify complex unmet needs which might be met by palliative care services [
9
–
15
]. Therefore, neuro-rehabilitation and palliation must play an important role in the management of MS patients beyond disease modifying treatments [
2
,
11
–
14
,
16
,
17
]. Presently, however, MS patients in Germany do not routinely come into contact with the palliative care approach, neither through their general providers nor via specialized palliative care services and institutions. This is possibly because it appears to be counterintuitive to many providers, in contrast to the UK's pioneering role in implementing palliative care also for patients with neurological long term conditions [
11
–
14
,
18
–
20
].
Concepts designed to bring the palliative care approach to Germany's MS patients must take into consideration the attitudes of both patients and associated health professionals. This qualitative study aimed to investigate how severely affected MS patients and health professionals in Germany understand palliative care, what they associate with this approach and if, or how, they feel palliative care might help these patients.
Methods
Results
Discussion
This study specifically documents perceptions of palliative care of severely affected MS patients and their healthcare professionals in Germany. The results give first insights into why severely affected MS patients in Germany only have sparse access to palliative care in all its forms, including hospice care, and aid in generating hypotheses about how to better approach this situation.
Of all those interviewed, the MS patients had the fewest associations with palliative care and they had difficulties in differentiating between hospice and palliative care. One possible explanation for this lack of awareness might be that advanced MS patients might have, over time, become adjusted to living with their disabilities and thus, as becomes clear in this study, might not view their condition as 'terminal' and in need of palliative care. While in general, patients depend on advice from their health professionals, it is the nurses who are often closest to patients and of great importance to them [
31
], and of all the health professionals interviewed it was the nurses who could at least imagine what was meant by palliative care. Physicians and social workers had the broadest spectrum of associations with palliative care but they predominately focused on 'life limitation' or on the idea that 'we already offer palliative care'. However, it was apparent that they were unsure of what palliative care exactly encompasses, who offers it and whether it would be useful for long-term neurological conditions like MS. These physicians and social workers made no distinction between general and specialized palliative care and never mentioned these terms. As patients and nurses are strongly influenced by physicians' opinions it is no wonder that neither of these groups are well informed about palliative care.
In fact, the fears surrounding its close association with death were far more recognized, along with those related to questioning the capability and expertise of extant care structures, than were overall opportunities for utilizing palliative care for MS patients.
In this study one important reason why palliative care was rejected for MS patients was the overwhelming opinion that palliative care would be meaningful only for terminal diseases or for stages typical of various cancers. Indeed the illness trajectory of MS and the terminal care phase are less distinct [
32
,
33
] and doubts exist about whether patients actually truly die from MS [
34
]. However, death clearly plays a role in MS, as MS patients could die from their disease or associated complications [
5
–
7
]. As acknowledged by participants in this study, the handling of death and dying, ostensibly the core focus of palliative care [
32
,
35
], might also play a role in the management of MS patients [
36
], so MS and palliative care are not contradictory, even if regarded in light of death and dying. We also know that severely affected MS patients are interested in communicating with their doctors about end of life issues [
22
] but doctors hardly ever address this topic with their MS patients although it might be beneficial both for patients and their families [
37
].
Another critical point brought up by the participants in our study was that they predominately associated palliative care with accompanying dying cancer patients. In contrast to cancer, the end-of-life phase in MS would be difficult to detect and symptom relief would play a comparatively minor role with MS patients. However, severely affected MS patients are every bit as afflicted as cancer patients in terms of the characteristics of the symptoms, and needs assessment of (severely) affected MS patients revealed unmet needs in those areas which could possibly be met by a palliative concept [
8
–
11
,
15
]. Nevertheless, compared with cancer patients, non-cancer patients, such as MS patients in Germany, do not have equal access to (specialized) palliative care and hospice services [
32
,
34
,
38
]; e.g. between 1993 and 2010 only 2.5% of patients whose deaths were attributed to MS died in hospice (UK) [
39
]. Reasons for less access to these services are that MS patients or their providers –as in our study– are rarely aware of such opportunities [
34
] or an advance care plan is lacking [
37
,
40
]. Our study indicates that both patients' and health professionals' fearful attitudes towards palliative care may also play a role in this.
Such fears might potentially emerge from the restricted and even vague awareness of palliative care exposed in this study, and these vague ideas about palliative care correspond to the various, partially discordant definitions of 'palliative care' and 'the palliative care patient', especially non-cancer palliative care patients [
41
–
43
]. A standardized and consistent definition and care concept of palliative care offering a reliable understanding of palliative care philosophy, aims, structures and activities could also aid in the German MS community discovering and appreciating previously unforeseen or overlooked opportunities for MS patients and their caregivers. Fears and doubts in the context of palliative care could then be resolved, making renaming 'palliative care' 'supportive' or 'comfort care' [
35
,
42
,
44
,
45
] unnecessary as well.
In the UK there is now a document available addressing how palliative care in all its forms could improve care of patients with long-term neurological conditions: "End of life care in long term neurological conditions – a framework for implementation" (NEoLCP) [
20
]. Pioneering studies in the UK have also successfully utilized specialized palliative care services for MS [
12
–
14
] or for neurodegenerative conditions [
46
].
The response 'We already offer palliative care', encapsulates a serious concern brought up by physicians in our study. This reply represents the idea that institutionalized palliative care might question the capability and expertise of existing care structures. Such concerns generally arise in the debate on how specialized outpatient palliative care could contribute to general (palliative) care without displacing existing structures [
47
]. While the palliative care approach alone cannot alleviate the complex needs of MS patients at large, nor in Germany, as related to our study, a common care concept for MS patients is needed which encompasses the expertise of general care providers as well as of palliative, neuro-rehabilitative and MS specialists. The MS community has ample knowledge of the disease, its progression, disease-specific treatment, needs and complications; including where special multidisciplinary rehabilitation programs can often stabilize or improve patients' functions. The palliative care community is primarily concerned with patient quality of life, autonomy in end of life decisions, palliation of burdensome symptoms and accompanying MS patients and their families through the various in- and outpatient sectors with assistance from multidisciplinary teams. General care providers are continuously involved at the ground level and are familiar with the typical problems of everyday life. These diverse skills are complementary and valuable for MS patients throughout the different stages of the disease. In contrast to Germany, the UK has already been developing such a multidisciplinary approach for long-term neurological conditions like MS, Parkinson's, motor neuron diseases and Huntington's disease and this is now spreading. The NEoLCP [
20
] offers different health professionals in different settings a wide range of practice guidance for the palliative care of neurological patients. Germany must first reach agreement among representatives of general, MS, neuro-rehabilitative and palliative care as to who is responsible, when and for what part of an MS patient's care. Agreement is needed on when palliative care should be offered to MS patients, and specifically agreement about when end of life issues should be considered with these patients. Indicators have been determined and include swallowing problems, aspiration pneumonia, recurrent infections or marked decline in physical status [
36
]. In defined tumor entities early integrated palliative care has been shown to improve quality of life and even lead to significantly longer survival [
48
]. It is highly conceivable that MS patients might also profit from such an early integration of palliative care. If possible treatment restrictions are already discussed during the early stages of a disease, then quality of life might improve in later stages of chronic neurological diseases [
37
].
How can palliative care be brought to MS patients, and in our case Germany's MS patients, on a widespread basis and meanwhile dispel common fears associated with it? Initial, low-threshold palliative care contact could be undertaken by general providers (e.g. GPs, neurologists), as emphasized by the physicians surveyed for our study. Ensuring early access to general palliative care requires that appropriate palliative care training be widely offered for multidisciplinary MS caregivers. In complex situations specialized in- or outpatient palliative care services with essential knowledge about MS might be an asset in helping to alleviate suffering, as proven in the UK where specialized outpatient palliative care services for MS or neurodegenerative conditions have been successfully utilized [
12
–
14
,
46
]. The UK studies explicitly make the crucial delineation that their palliative services were complementary, and not a substitute for existing services [
12
–
14
,
46
], both confirming and emphasizing the importance of coexistent providers.
Limitations and strengths of study
As interviews and focus groups could not be conducted to theoretical saturation, the study results cannot be generalized. There were barriers prohibiting interviews with advanced MS patients and similarly, communication disabilities, cognitive impairments, depression or fatigue made it problematic to conduct some interviews. Recruiting difficulties with health professionals meant that the groups interviewed were not equal in number; physicians (and neurologists among them) represented the largest group. However, the qualitative approach of this study made it possible to combine narrative elements with semi-structured questions. The interview guide was used flexibly, enabling the interviewees to elaborate their perspectives. More detail on various attitudes was obtained via this approach. A rigid format of a structured interview or a questionnaire would not have allowed us to gather this spectrum of information.
Conclusion
Severely affected MS patients and health professionals in Germany may have a vague and incomplete perception of palliative care, leading to misunderstandings, discomfort or even fear and rejection. A consistent palliative care concept with a view towards early integration should be introduced and made public within the MS community and among general providers in Germany so as to offer, in a combined approach, an additional layer of support for severely affected MS patients in the future.
Acknowledgements
We would like to thank all study participants, the German MS Society, especially Mrs. Pitschnau-Michel, for supporting our scientific interest, and Marianne Henry for transcribing the audio recordings.
This work was supported by the Gemeinnützige Hertie Stiftung [1.01.1/06/009]. The Center for Clinical Trials, University Hospital, Cologne, Germany receives support for clinical studies from the Federal Ministry of Education and Research (BMBF01KN0706).
This article is published under license to BioMed Central Ltd. This is an Open Access article distributed under the terms of the Creative Commons Attribution License (
http://​creativecommons.​org/​licenses/​by/​2.​0
), which permits unrestricted use, distribution, and reproduction in any medium, provided the original work is properly credited. The Creative Commons Public Domain Dedication waiver (
http://​creativecommons.​org/​publicdomain/​zero/​1.​0/​
) applies to the data made available in this article, unless otherwise stated.
Competing interests
The authors declare that they have no competing interests.
Authors' contributions
RV, HP, MG conceptualized the study. RV obtained funding. HG and MG were responsible for the overall study coordination including recruitment, data collection and data analysis. HG wrote the manuscript and MG, RV and HP commented on it and made further suggestions until the final form was reached which was approved by all authors.