07.12.2016 | Original Article | Ausgabe 3/2017 Open Access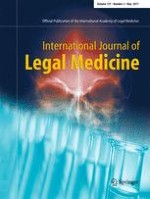 Muscidae (Diptera) of forensic importance—an identification key to third instar larvae of the western Palaearctic region and a catalogue of the muscid carrion community
Zeitschrift:
Autoren:

Andrzej Grzywacz, Martin J. R. Hall, Thomas Pape, Krzysztof Szpila
Wichtige Hinweise
Electronic supplementary material
The online version of this article (doi:
10.​1007/​s00414-016-1495-0
) contains supplementary material, which is available to authorized users.
Introduction
The aim of the present study is to provide a key allowing the identification of the third instar larvae of Muscidae breeding in carrion and dead human bodies in the western Palaearctic region (Europe, North Africa and the Middle East). Thus, we catalogue all carrion-visiting Muscidae worldwide and recognize those species or taxa that additionally breed on/in carrion. Subsequently, species breeding in animal carrion and dead human bodies, and therefore of potential forensic importance, were investigated for their geographical distribution, and a detailed morphological study is presented for species of the western Palearctic. Larval morphological characters used by previous authors for taxonomic purposes are subjected to an in-depth revision with the application of the combined methods of light and scanning electron microscopy. We provide a set of characters allowing for the discrimination of larvae of Muscidae from those of other forensically relevant families, and a key is provided for the identification of all studied species. Finally, the role of Muscidae in the faunal succession of cadavers and their application for medico-legal purposes is briefly discussed.
Material and methods
The selection of species for the present study involved two criteria. First, species visiting carrion and cadavers were identified on the basis of the available literature and communications with practicing forensic entomologists. A taxon was recognized as of potential forensic importance if there was at least one report of immature stages breeding in a human cadaver or in animal carrion. Second, the geographic distribution of each species was studied in the literature data [
22
–
26
], and only species confirmed as occurring in the western Palaearctic were included in the study.
Female muscids were collected from the field by hand-netting and the use of carrion-baited traps, and larvae were obtained by keeping those flies in the laboratory until oviposition. Specimens were reared, killed and preserved as described by Grzywacz et al. [
27
,
28
], Grzywacz and Pape [
29
] and Velásquez et al. [
26
]. A laboratory colony of
Hydrotaea aenescens
(Wiedemann) was established from adults emerged from
c
. 25 pupae obtained from the Institut de Recherche Criminelle de la Gendarmerie, Fort de Rosny, France. Third instar larvae of
Synthesiomyia nudiseta
(van der Wulp) were obtained from a laboratory colony maintained at the Department of Environmental Sciences and Natural Resources, University of Alicante, Spain, and from the Mexican-American Commission for the Eradication of Screwworm (COMEXA), Chiapa de Corzo, Chiapas, Mexico. Since attempts to obtain immature stages of
Musca autumnalis
De Geer and
Morellia
Robineau-Desvoidy failed, i.e. the collected females either did not oviposit or did not fully develop their eggs, third instar larvae were collected directly from cow manure and identified according to Stoffolano [
30
] and Skidmore [
8
]. Larvae of
Musca sorbens
were obtained from the collection of the Natural History Museum, London, UK. The number of examined specimens is as follows:
Atherigona orientalis
Schiner
n =
 16,
Helina
sp.
n =
 36,
Hydrotaea aenescens n =
 476,
H. armipes
(Fallén)
n =
 20,
H. capensis
(Wiedemann)
n =
 45,
H. dentipes
(Fabricius)
n =
 602,
H. ignava
(Harris)
n =
 512,
H. pilipes
Stein
n =
 32,
H. similis
Meade
n =
 20,
Morellia
sp.
n =
 3,
Musca autumnalis n =
 27,
M. domestica n =
 61,
M. sorbens n =
 5,
Muscina levida
(Harris)
n =
 154,
M. prolapsa
(Harris)
n =
 38,
M. stabulans
(Fallén)
n =
 165,
Phaonia
sp.
n =
 41,
Stomoxys calcitrans
(Linnaeus)
n =
 27, and
Synthesiomyia nudiseta n =
 158.
Material for SEM examination was prepared by dehydration through 80.0, 90.0 and 99.5% ethanol, with subsequent critical point drying in CO 2. Subsequently, larvae were mounted on aluminium stubs and sputter-coated with platinum or gold. SEM images were taken with a JEOL scanning electron microscope (JSM-6335F; JEOL Ltd, Tokyo, Japan) or a variable pressure SEM LEO 1455 (Carl Zeiss Microscopy, Germany).
Light microscopy was performed with a Stemi 2000 stereomicroscope (Carl Zeiss Light Microscopy, Germany). Larvae were mounted on microscope slides in Hoyer's medium and examined with a Nikon Eclipse E200 microscope (Nikon Corp., Tokyo, Japan). For additional observation of details of the cephaloskeleton, larvae were dehydrated through a 80.0, 96.0 and 99.5% ethanol series and studied with a stereomicroscope 3 h after transfer to methyl salicylate [
31
]. After examination, the material was transferred back to a 70% ethanol solution.
Photographs for light microscopy illustrations were taken with a Nikon 8400 digital camera mounted either on a Nikon Eclipse E200 microscope or Nikon SMZ 1500 stereomicroscope (Nikon Corp., Tokyo, Japan). Line drawings were prepared by hand and subsequently digitized.
Results
Searching the available literature revealed 168 muscid species and 31 taxa identified to genus level only that visit dead human bodies or animal carrion worldwide (Electronic supplementary material
1
). We expect that the many taxa identified to genus level only are represented among those identified to species level. Decomposing animal carrion and human bodies have been documented as breeding habitats for considerably fewer species, since our search revealed only 25 muscid species and 8 taxa identified to genus level documented from immature stages in forensic case reports and carrion succession experiments. Among these, 14 species and 3 taxa identified to genus level occur in the western Palaearctic region. The present key covers all muscids reported from immature stages from animal carrion and human bodies in the western Palaearctic. Except for
Hydrotaea chalcogaster
(Wiedemann),
H. obscurifrons
(Sabrosky) and
H. spinigera
(Stein), for which we had no material available, the key will work for the entire Holarctic carrion-breeding muscid fauna.
Identification key to third instar larvae of western Palaearctic Muscidae of forensic importance
Discussion
Forensically important species
Muscid flies have been reported in numerous forensic studies that either describe the succession of insects on carrion or are inventories of local carrion faunas. Due to problems with identification, in many of these studies, Muscidae are referred to at the genus or family level only [
13
,
14
,
32
–
37
], which may give the impression of low diversity. However, when authors have attempted to identify muscids to species, it often emerged that they were very numerous and diverse [
12
,
17
,
38
–
40
].
The present study demonstrated that more than 150 species of Muscidae have been reported to visit either human bodies or animal carrion (Electronic supplementary material
1
). We were cautious with our pooling of literature data to avoid an overestimation of the number of carrion-visiting Muscidae taxa. For example, Alves et al. [
41
] miscalculated carrion-visiting muscids in South America, erroneously listing
Hydrotaea aenescens
and its two junior synonyms
H. argentina
(Bigot) and
Ophyra argentina
as well as
Synthesiomyia nudiseta
and its junior synonym
S. brasiliana
Brauer & Bergenstamm as three and two valid species, respectively, rather than as just two species overall. For the majority of species reported to be visiting carrion as adults, carrion is not documented as a breeding medium. Hence, immature stages of only 25 muscid species and 8 taxa identified to genus level only have been found to develop in this habitat, either feeding on the putrefying tissues or preying on other necrophagous larvae. Some Muscidae that are predatory in the larval stage reside in the soil beneath or close to cadavers (e.g.
Phaonia
Robineau-Desvoidy,
Helina
Robineau-Desvoidy) and may erroneously be considered as a component of the carrion fauna, when they are actually preying on larvae dispersing from the cadaver. The most regular and frequent muscid components of the carrion-breeding community are species of the genera
Atherigona
Rondani,
Hydrotaea
Robineau-Desvoidy,
Musca
Linnaeus,
Muscina
Robineau-Desvoidy and
Synthesiomyia
Brauer & Bergenstamm. Some of these species have a wide geographic distribution and have been reported as elements of carrion communities in different regions of the world, e.g.
A. orientalis
,
H. aenescens
,
H. capensis
,
H. ignava
,
H. dentipes
,
M. domestica
,
M. stabulans
.
In the family Muscidae, some species have recently been shown to be common components of the carrion fauna [
16
], while many others are just casual visitors as adults [
12
,
16
], attracted less frequently/predictably to decomposing tissues for feeding purposes. Furthermore, Matuszewski et al. [
16
] revealed that even regular carrion-visiting species may be of little or no forensic value, and the medico-legal usefulness of each taxon requires a detailed study before a firm assessment can be made of its potential forensic significance. However, researchers should be aware of the possible occurrence among the typical carrion-visiting and carrion-breeding species of numerous more rarely attracted taxa. This may be the case for some of the Muscidae listed here, since for about 80 taxa, we found only a single reference reporting the presence of adults on carrion (Electronic supplementary material
1
). For this reason, application of identification keys for adult muscids with a broad taxon coverage for the geographic region of interest is recommended in forensic entomology surveys instead of those exclusively oriented towards identification of 'forensically important' species [
42
].
We included all references to carrion-visiting muscids that we are aware of, but may have missed some less obvious reports; nevertheless, we consider the set of western Palaearctic taxa presented here, particularly the narrow set of carrion breeders, to be complete. However, we expect that further species will be named that are either rare visitors as adults or breed in carrion and cadavers, in particular in the latter group from the genera
Azelia
Robineau-Desvoidy and
Morellia
.
Muscidae in forensic context
The larvae of muscids that are commonly considered as forensically important are either truly necrophagous or display a predacious behaviour as they mature. In the latter case (e.g.
A. orientalis
,
Hydrotaea
spp.,
Muscina
spp.,
S. nudiseta
), they can considerably lower the abundance of other necrophagous species by preying on their larvae, similar to some predatory blow flies and flesh flies [
1
]. Muscidae are considered to arrive at cadavers and carrion just after the blow flies and flesh flies [
5
]. However, in some cases, muscids were the only insects reported to colonize decomposing bodies, especially if access to a corpse was denied to the primary carrion colonizers [
1
]. Muscids are generally considered to breed in carrion in the later stages of decomposition, and they tend to occur at the moist advanced decay stage [
5
]. Under certain circumstances, muscids can occur on cadavers as pioneer colonizers. Smith [
1
] stated that
Musca autumnalis
usually occurs in the early stages of cadaver decomposition and reported a similar occurrence for representatives of the genus
Muscina
, but according to Thomson [
43
], species of the latter genus prefer cadavers already colonized by other flies. Certain synanthropic species, e.g.
Musca domestica
and
Muscina stabulans
, are likely to be associated with cadavers in domestic conditions and under certain circumstances may be the sole colonizers of a body [
1
]. The majority of species are not synanthropic and probably do not inhabit human dwellings, being associated instead with rural and forest habitats [
12
,
16
]. Muscidae are not frequently referred to in forensic studies, despite the fact that many Muscidae are regularly attracted to carrion (Electronic supplementary material
1
). However, recently, some authors have revealed a high diversity of Muscidae among arthropods attracted to decomposing carrion in rural and forest habitats of Central Europe [
12
,
16
,
44
]. In these habitats, muscid species significantly outnumbered Sarcophagidae, commonly considered as one of the most forensically important groups of insects [
16
,
45
]. Matuszewski et al. [
16
] found a significant association of adults of
H. aenescens
,
H. armipes
,
H. cyrtoneurina
(Zetterstedt),
H. dentipes
,
H. ignava
,
H. pilipes
and
H. similis
and larvae of
H. ignava
and
H. dentipes
with the bloated stage of carrion decomposition.
According to Smith [
1
],
Musca domestica
and
Muscina
spp. are more readily attracted to bodies contaminated with faeces rather than to those not so contaminated. Indeed, Benecke and Lessig [
46
] reported child neglect preceding death due to the presence of
M. stabulans
larvae attracted to faeces. The occurrence of Muscidae on a cadaver prior to death is of importance and could happen, not only because the flies were attracted by faeces present on the body but also from infected wounds, because some muscids are known to be involved in cases of secondary myiasis in humans and animals [
47
], e.g.
M. domestica
,
Muscina levida
,
M. prolapsa
,
M. stabulans
and
S. nudiseta
.
Restricted access of arthropods to a dead body has been recognized as one of the most important factors affecting the breakdown of cadaver. Concealed remains, e.g. buried bodies, can still be colonized by insects, but even a relatively thin layer of soil, just 5–10 cm, may either disturb or inhibit colonization by some typical necrophagous species [
48
]. Although some authors have reported flies (
Calliphora vicina
Robineau-Desvoidy) ovipositing on the soil covering a body buried at a depth of 30 cm [
14
], such observations are not consistent with the ability of larvae to reach a buried corpse [
48
]. Some Muscidae, particularly of the genera
Muscina
and
Hydrotaea
, together with some Phoridae and Sarcophagidae, are among the few dipterans known for their ability to exploit buried remains [
20
,
37
,
48
,
49
], and in some cases, Muscidae have even been described as predominant on buried remains [
49
,
50
]. Nuorteva [
51
] observed females of
H. dentipes
ovipositing on a human corpse partly covered with snow, and Anderson [
52
] reported a
Hydrotaea
sp. colonising a body placed in a car trunk and Shin et al. [
53
] reported
H. obscurifrons
also from a body in a car trunk. According to Mariani et al. [
54
],
H. aenescens
and
M. stabulans
are able to develop through several generations on a buried cadaver. A similar phenomenon has been observed for
H. capensis
colonising bodies in buried coffins [
55
]. Skidmore [
8
] reported that
H. dentipes
and
H. ignava
overwinter in the larval or pupal stage, and recently, Mądra et al. [
44
] revealed those two species and
H. pilipes
overwintering on pig carcasses in their immature stages. Two species of Muscidae (
H. capensis
,
M. prolapsa
) have been reported to develop in pig heads concealed in zipped suitcases [
56
].
Identification of third instar larvae
Conclusions
A high species diversity has been revealed for the community of carrion-visiting Muscidae. Recent studies have significantly added to this set of muscids known to be attracted to decomposing carrion/cadavers. Some species have been shown to regularly either visit carrion as adults or to breed in/on decomposing bodies and carrion. Although the value of some muscid species as forensic indicators has been documented, particularly in Central European habitats, the potential value of many other species still needs to be studied in detail. The key for the identification of third instar larvae provided here will allow for precise identification of all muscid species known to breed in human cadavers in the western Palaearctic, facilitating a better understanding of the role played by Muscidae as forensic entomology indicators. Data to estimate the age of the oldest cadaver colonizers, thereby the minimum PMI, includes developmental models of a particular species under specific conditions gathered by laboratory studies. Though such data have been provided for some muscids [
26
,
66
–
69
], the majority of species still need to be studied.
Acknowledgments
The present work was supported financially by the Polish National Science Centre (grant no. N N303 470838), the Ministry of Science and Higher Education grant IUVENTUS PLUS (grant no. 0146/IP1/2015/73) and the SYNTHESYS Projects
http://​www.​synthesys.​info/​
, which are financed by the European Community Research Infrastructure Action under the FP7 Integrating Activities Programme (grants nos. DK-TAF-5412 and GB-TAF-924) to the first author. We thank Ms. Ana Farinha, Ms. Nina Feddern, Dr. Heike Fremdt, Mr. Mateusz Jarmusz and Dr. Szymon Matuszewski granting us their unpublished records. We would like to express our appreciation to Dr. Yelitza Velásquez (University of Alicante, Alicante, Spain), Ms. Socorro Gomez (Chiapa de Corzo, Chiapas, Mexico) and Mr. Thierry Pasquerault (Institut de Recherche Criminelle de la Gendarmerie, Fort de Rosny, France) for the aid in obtaining larval material of some species.
Compliance with ethical standards
Conflict of interest
The authors declare that they have no conflict of interests.
Open Access
This article is distributed under the terms of the Creative Commons Attribution 4.0 International License (http://creativecommons.org/licenses/by/4.0/), which permits unrestricted use, distribution, and reproduction in any medium, provided you give appropriate credit to the original author(s) and the source, provide a link to the Creative Commons license, and indicate if changes were made.