01.12.2017 | Research | Ausgabe 1/2017 Open Access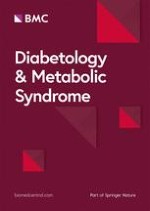 Muscle irisin response to aerobic vs HIIT in overweight female adolescents
Zeitschrift:
Autoren:

Carolina Archundia-Herrera, Maciste Macias-Cervantes, Bernardo Ruiz-Muñoz, Katya Vargas-Ortiz, Carlos Kornhauser, Victoriano Perez-Vazquez
Abstract
Background
Exercise stimulates the production of fibronectin type III domain-containing protein 5 (FNDC5), which is cleaved to release a protein called irisin. This protein induces browning of white adipose tissue resulting in increased thermogenesis. Different studies have measured circulating irisin at baseline and in response to exercise among a wide variety of individuals; yet, regarding the effect of different exercise intensities in obese adolescent girls, limited insight is available. This study compares the effect of acute aerobic exercise of moderate intensity and high-intensity interval training (HIIT) on irisin levels in skeletal muscle and plasma of sedentary overweight or obese female adolescents.
Methods
The aerobic group (n = 15) and HIIT group (n = 15) underwent anthropometric and metabolic measurements, electrocardiogram, peak oxygen uptake (VO2peak), and two vastus lateralis muscle biopsies before and after session of workout. The session of aerobic exercise included cycling at 65% of their peak heart rate (HRpeak) for 40 min. In the HIIT group, exercise included six bouts of 1 min at 85–95% HRpeak separated by 1 min of recovery. Irisin levels were evaluated in samples of skeletal muscle (western blot) and plasma (ELISA).
Results
The levels of expression of irisin in skeletal muscle increased significantly after a session of HIIT (p < 0.05), while aerobic exercise no affect irisin levels. No significant differences between the groups in plasma irisin levels were found.
Conclusions
The increase in muscle irisin levels was observed only following HIIT session. No increases in plasma irisin concentration were observed.