01.12.2015 | Research article | Ausgabe 1/2015 Open Access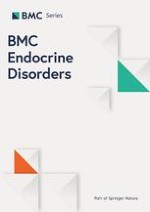 Muscle ring finger-3 protects against diabetic cardiomyopathy induced by a high fat diet
Zeitschrift:
Autoren:

Megan T. Quintana, Jun He, Jenyth Sullivan, Trisha Grevengoed, Jonathan Schisler, Yipin Han, Joseph A. Hill, Cecelia C. Yates, William E. Stansfield, Rudo F. Mapanga, M. Faadiel Essop, Michael J. Muehlbauer, Christopher B. Newgard, James R. Bain, Monte S. Willis
Wichtige Hinweise
Electronic supplementary material
The online version of this article (doi:
10.​1186/​s12902-015-0028-z
) contains supplementary material, which is available to authorized users.
Megan T. Quintana and Jun He contributed equally to this work.
Competing interests
The authors declare that they have no competing interests.
Authors' contributions
MQ, J He, J Hill, and MW conceived the experimental approach, coordinated and performed the animal experiments (husbandry, feeding, breeding, colony management). JH, MQ performed western blots, blood collection and insulin analyses in addition to molecular in vitro tests. MW and MQ performed the echocardiography and harvested the tissues for metabolomics. JH, J Schisler, and WS assisted with the design of the high fat diet and interpretation of the cardiac function and morphometric data. YH performed DNA genotyping of the mouse colony to confirm identification after harvesting and contributed to analysis and interpretation of molecular studies. J Sullivan and TG performed and assisted J He and MQ with determining glycogen and triglyceride levels in skeletal muscle, liver, and heart. CY performed histological analysis of fibrosis and vimentin staining. RM and MFE designed the O-Glc-NAC studies, performed the immunoblots, and wrote the interpretation of the results. JB, CN, and MM performed the non-targeted metabolomics studies and identified the peaks; MW performed the Metaboanalyst presentation and interpretation of the metabolomics results. MW, MQ, and JH designed, performed, and interpreted experiments delineating MuRF3's post-translational modification of PPAR isoforms. All authors read and approved the final manuscript.
Abstract
Background
The pathogenesis of diabetic cardiomyopathy (DCM) involves the enhanced activation of peroxisome proliferator activating receptor (PPAR) transcription factors, including the most prominent isoform in the heart, PPARα. In cancer cells and adipocytes, post-translational modification of PPARs have been identified, including ligand-dependent degradation of PPARs by specific ubiquitin ligases. However, the regulation of PPARs in cardiomyocytes and heart have not previously been identified. We recently identified that muscle ring finger-1 (MuRF1) and MuRF2 differentially inhibit PPAR activities by mono-ubiquitination, leading to the hypothesis that MuRF3 may regulate PPAR activity in vivo to regulate DCM.
Methods
MuRF3−/− mice were challenged with 26 weeks 60 % high fat diet to induce insulin resistance and DCM. Conscious echocardiography, blood glucose, tissue triglyceride, glycogen levels, immunoblot analysis of intracellular signaling, heart and skeletal muscle morphometrics, and PPARα, PPARβ, and PPARγ1 activities were assayed.
Results
MuRF3−/− mice exhibited a premature systolic heart failure by 6 weeks high fat diet (vs. 12 weeks in MuRF3+/+). MuRF3−/− mice weighed significantly less than sibling-matched wildtype mice after 26 weeks HFD. These differences may be largely due to resistance to fat accumulation, as MRI analysis revealed MuRF3−/− mice had significantly less fat mass, but not lean body mass. In vitro ubiquitination assays identified MuRF3 mono-ubiquitinated PPARα and PPARγ1, but not PPARβ.
Conclusions
These findings suggest that MuRF3 helps stabilize cardiac PPARα and PPARγ1 in vivo to support resistance to the development of DCM.
MuRF3 also plays an unexpected role in regulating fat storage despite being found only in striated muscle.