01.06.2014 | Article | Ausgabe 6/2014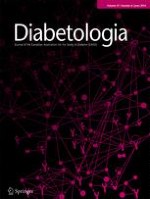 Muscle-specific activation of Ca2+/calmodulin-dependent protein kinase IV increases whole-body insulin action in mice
Zeitschrift:
Autoren:

Hui-Young Lee, Arijeet K. Gattu, João-Paulo G. Camporez, Shoichi Kanda, Blas Guigni, Mario Kahn, Dongyan Zhang, Thomas Galbo, Andreas L. Birkenfeld, Francois R. Jornayvaz, Michael J. Jurczak, Cheol Soo Choi, Zhen Yan, R. Sanders Williams, Gerald I. Shulman, Varman T. Samuel
Wichtige Hinweise
Electronic supplementary material
The online version of this article (doi:
10.​1007/​s00125-014-3212-1
) contains peer-reviewed but unedited supplementary material, which is available to authorised users.
Arijeet K. Gattu and João-Paulo G. Camporez contributed equally to this work.
Abstract
Aims/hypothesis
Aerobic exercise increases muscle glucose and improves insulin action through numerous pathways, including activation of Ca2+/calmodulin-dependent protein kinases (CAMKs) and peroxisome proliferator γ coactivator 1α (PGC-1α). While overexpression of PGC-1α increases muscle mitochondrial content and oxidative type I fibres, it does not improve insulin action. Activation of CAMK4 also increases the content of type I muscle fibres, PGC-1α level and mitochondrial content. However, it remains unknown whether CAMK4 activation improves insulin action on glucose metabolism in vivo.
Methods
The effects of CAMK4 activation on skeletal muscle insulin action were quantified using transgenic mice with a truncated and constitutively active form of CAMK4 (CAMK4●) in skeletal muscle. Tissue-specific insulin sensitivity was assessed in vivo using a hyperinsulinaemic–euglycaemic clamp and isotopic measurements of glucose metabolism.
Results
The rate of insulin-stimulated whole-body glucose uptake was increased by ∼25% in CAMK4● mice. This was largely attributed to an increase of ∼60% in insulin-stimulated glucose uptake in the quadriceps, the largest hindlimb muscle. These changes were associated with improvements in insulin signalling, as reflected by increased phosphorylation of Akt and its substrates and an increase in the level of GLUT4 protein. In addition, there were extramuscular effects: CAMK4● mice had improved hepatic and adipose insulin action. These pleiotropic effects were associated with increased levels of PGC-1α-related myokines in CAMK4● skeletal muscle.
Conclusions/interpretation
Activation of CAMK4 enhances mitochondrial biogenesis in skeletal muscle while also coordinating improvements in whole-body insulin-mediated glucose.