04.03.2019 | Main Article | Ausgabe 3/2019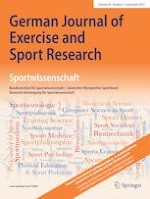 Musculoskeletal capacity and serve mechanics in professional women's tennis players
Zeitschrift:
Autoren:

PhD, ATC, PES Ass. Prof. Natalie L. Myers, MD, FACSM W. Ben Kibler, Alexis H. Axtell, Belinda J. Herde, PhD Assoc. Prof. Philip M. Westgate, PhD, ATC, PT, FNATA Prof. Tim L. Uhl
Abstract
It has been theorized that incorporating strength, speed, and flexibility training regimes may improve the quality of the tennis serve. Efficient stroke quality during the serve improves velocity and diminishes injury risk in tennis players. However, no study in tennis has identified whether adequate musculoskeletal capacity is a factor that helps drive optimal serve mechanics. The aim of this study was to determine whether musculoskeletal capacity could predict efficient serve mechanics. A total of 46 professional women's tennis players (age: 26 ± 3 years, body mass: 65 ± 5 kg, height: 1.74 ± 0.06 m) were studied. Musculoskeletal capacity parameters were evaluated by the tennis specific screen (TSS) with strength and flexibility measures. Serve mechanics were evaluated using the observational tennis serve analysis (OTSA) tool. The OTSA is scored using a 0–9 system. Multiple regression analysis revealed scapular dyskinesis on the non-dominant side during flexion to be predictive of OTSA score (r
2
 = 0.14,
p
-value = 0.008). However, the correlation is weak (r = 0.38), rendering a non-clinically significant relationship between scapular dyskinesis and serve mechanics. None of the other musculoskeletal parameters generated significant relationships to serve mechanics. This study demonstrated that in professional women's tennis players there is no meaningful relationship between the TSS measurements and OTSA scores. In conclusion, musculoskeletal capacity and serve mechanics are independent of each another, and should be addressed separately.