01.12.2015 | Research article | Ausgabe 1/2015 Open Access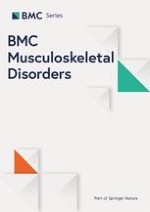 Musculoskeletal symptoms in an adolescent athlete population: a comparative study
Zeitschrift:
Autoren:

Élise P. Legault, Martin Descarreaux, Vincent Cantin
Wichtige Hinweise
Competing interests
The authors declare that they have no competing interests.
Authors' contributions
EPL participated in the study design, data analysis, experimentation and manuscript writing. MD participated in study design and manuscript revision. VC participated in study design and manuscript revision. All authors read and approved the final manuscript.
Abstract
Background
Musculoskeletal pain, symptoms or injuries are prevalent in the adolescent athlete population as well as in the general adolescent population, and often have significant consequences on their future musculoskeletal health. However, differences between these two populations in regards to their musculoskeletal health are not known and have not yet been explored. Therefore, the main objectives of this study are to 1) compare the 6-month prevalence of musculoskeletal symptoms and their impact on school attendance and reduction in sport or leisure activity between a group of adolescent athletes and a group of control adolescents, and 2) determine if gender has different effects on the prevalence of musculoskeletal symptoms in these two populations.
Methods
Among adolescents who participated in the 2012 Québec summer games, 1,865 agreed to participate and constituted the adolescent athletes group (mean age:14.12 ± 1.22). An additional cohort of 707 adolescents from two schools was also recruited to form the comparison control group (mean age: 14.69 ± 1.38). Anthropometric data were collected, and the musculoskeletal 6-month prevalence of symptoms and their related impacts were assessed using the Teen Nordic Musculoskeletal Screening Questionnaire (TNMQ-S). Participants' characteristics as well as symptoms prevalence for the nine anatomical regions as well as their impact on school/work absence and reduction in physical/leisure activities were compared between athletes and control adolescents.
Results
When compared to athlete adolescents, significantly more controls had a positive 6-month prevalence of symptoms affecting the neck (48.8 % vs 26.3 %), upper back (41.3 % vs 18.1 %) and low back (45.4 % vs 35.8 %) when compared to athlete. Symptoms affecting the spine led to significantly more school absence and reduction in physical activity in the control group. Controls also showed higher prevalence of shoulder (37.1 % vs 28.3 %) and wrist/hand (23.8 % vs 17.4 %) symptoms, while athletes had a higher prevalence of elbow symptoms (8.7 % vs 11.4 %).
Conclusion
Despite their higher risk of injuries related to high levels of competition or sport participation, adolescent athletes have fewer symptoms affecting the spine than "typical adolescents", and similar prevalence of symptoms affecting the body's extremities. Further investigations are necessary to understand the differences between athletes and non-athletes in regard to disability and long-term complications associated to musculoskeletal pain or symptoms.