01.02.2013 | Original Article | Ausgabe 1/2013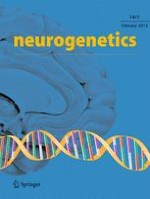 Mutations in
SLC20A2

are a major cause of familial idiopathic basal ganglia calcification
Zeitschrift:
Autoren:

Sandy Chan Hsu, Renee L. Sears, Roberta R. Lemos, Beatriz Quintáns, Alden Huang, Elizabeth Spiteri, Lisette Nevarez, Catherine Mamah, Mayana Zatz, Kerrie D. Pierce, Janice M. Fullerton, John C. Adair, Jon E. Berner, Matthew Bower, Henry Brodaty, Olga Carmona, Valerija Dobricić, Brent L. Fogel, Daniel García-Estevez, Jill Goldman, John L. Goudreau, Suellen Hopfer, Milena Janković, Serge Jaumà, Joanna C. Jen, Suppachok Kirdlarp, Joerg Klepper, Vladimir Kostić, Anthony E. Lang, Agnès Linglart, Melissa K. Maisenbacher, Bala V. Manyam, Pietro Mazzoni, Zofia Miedzybrodzka, Witoon Mitarnun, Philip B. Mitchell, Jennifer Mueller, Ivana Novaković, Martin Paucar, Henry Paulson, Sheila A. Simpson, Per Svenningsson, Paul Tuite, Jerrold Vitek, Suppachok Wetchaphanphesat, Charles Williams, Michele Yang, Peter R. Schofield, João R. M. de Oliveira, María-Jesús Sobrido, Daniel H. Geschwind, Giovanni Coppola
Abstract
Familial idiopathic basal ganglia calcification (IBGC) or Fahr's disease is a rare neurodegenerative disorder characterized by calcium deposits in the basal ganglia and other brain regions, which is associated with neuropsychiatric and motor symptoms. Familial IBGC is genetically heterogeneous and typically transmitted in an autosomal dominant fashion. We performed a mutational analysis of
SLC20A2
, the first gene found to cause IBGC, to assess its genetic contribution to familial IBGC. We recruited 218 subjects from 29 IBGC-affected families of varied ancestry and collected medical history, neurological exam, and head CT scans to characterize each patient's disease status. We screened our patient cohort for mutations in
SLC20A2
. Twelve novel (nonsense, deletions, missense, and splice site) potentially pathogenic variants, one synonymous variant, and one previously reported mutation were identified in 13 families. Variants predicted to be deleterious cosegregated with disease in five families. Three families showed nonsegregation with clinical disease of such variants, but retrospective review of clinical and neuroimaging data strongly suggested previous misclassification. Overall, mutations in
SLC20A2
account for as many as 41 % of our familial IBGC cases. Our screen in a large series expands the catalog of
SLC20A2
mutations identified to date and demonstrates that mutations in
SLC20A2
are a major cause of familial IBGC. Non-perfect segregation patterns of predicted deleterious variants highlight the challenges of phenotypic assessment in this condition with highly variable clinical presentation.