01.12.2012 | Research | Ausgabe 1/2012 Open Access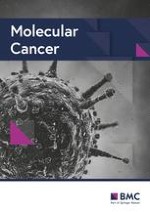 MutS homologue hMSH5: role in cisplatin-induced DNA damage response
Zeitschrift:
Autoren:

Joshua D Tompkins, Xiling Wu, Chengtao Her
Wichtige Hinweise
Electronic supplementary material
The online version of this article (doi:
10.​1186/​1476-4598-11-10
) contains supplementary material, which is available to authorized users.
Competing interests
The authors declare that they have no competing interests.
Authors' contributions
JT carried out most of the experiments and participated in the preparation of the manuscript. XW participated in reagent preparation, interpretation of critical data, and manuscript preparation and revision. CH conceived of the study and participated in its design and coordination as well as manuscript preparation. All authors read and approved the final manuscript.
Abstract
Background
Cisplatin (
cis
-diamminedichloroplatinum (II), CDDP) and its analogues constitute an important class of anticancer drugs in the treatment of various malignancies; however, its effectiveness is frequently affected by mutations in genes involved in the repair and signaling of cisplatin-induced DNA damage. These observations necessitate a need for a better understanding of the molecular events governing cellular sensitivity to cisplatin.
Results
Here, we show that hMSH5 mediates sensitization to cisplatin-induced DNA damage in human cells. Our study indicates that hMSH5 undergoes cisplatin-elicited protein induction and tyrosine phosphorylation. Silencing of hMSH5 by RNAi or expression of hMSH5 phosphorylation-resistant mutant hMSH5Y742F elevates cisplatin-induced G2 arrest and renders cells susceptible to cisplatin toxicity at clinically relevant doses. In addition, our data show that cisplatin promotes hMSH5 chromatin association and hMSH5 deficiency increases cisplatin-triggered γ-H2AX foci. Consistent with a possible role for hMSH5 in recombinational repair of cisplatin-triggered double-strand breaks (DSBs), the formation of cisplatin-induced hMSH5 nuclear foci is hRad51-dependent.
Conclusion
Collectively, our current study has suggested a role for hMSH5 in the processing of cisplatin-induced DSBs, and silencing of hMSH5 may provide a new means to improve the therapeutic efficacy of cisplatin.