01.03.2015 | Original Article | Ausgabe 3/2015 Open Access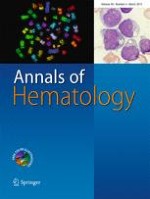 Mylotarg has potent anti-leukaemic effect: a systematic review and meta-analysis of anti-CD33 antibody treatment in acute myeloid leukaemia
Zeitschrift:
Autoren:

J. Loke, J. N. Khan, J. S. Wilson, C. Craddock, K. Wheatley
Wichtige Hinweise
Electronic supplementary material
The online version of this article (doi:
10.​1007/​s00277-014-2218-6
) contains supplementary material, which is available to authorized users.
Introduction
Despite advances in supportive care, the outcome of patients with acute myeloid leukaemia (AML) remains poor with only about 40 % of adults under 60 years of age achieving long-term survival, and in those over 60 years of age, less than 20 % achieve long-term survival [
1
]. Immunotherapeutic strategies, utilising antibodies against tumour antigens, have proved highly effective in other haematological malignancies [
2
] but have yet to become established as standard of care in the management of AML. CD33 is frequently expressed on the surface of AML cells and is rarely expressed outside of the haematological system [
3
]. Two anti-CD33 antibodies have been evaluated in randomised clinical trials: lintuzumab and gemtuzumab ozogamicin (GO, trade name, Mylotarg). GO is a humanised monoclonal antibody against CD33, conjugated to calicheamicin. Calicheamicin cleaves sequence-specific DNA regions causing double-stranded breaks [
4
]. GO was reported to improve overall responses dramatically in adults with relapsed AML [
5
], and as a consequence, GO was given accelerated approval by the US Food and Drug Agency in 2000 but was subsequently voluntarily withdrawn in 2010 because of reports of excessive toxicity [
6
].
Given the conflicting results of different studies and the potential importance of this drug, the aim of this systematic review and meta-analysis is to assess the totality of the evidence on the effectiveness and optimal delivery of anti-CD33 antibody treatment in AML.
Methods
Results
Discussion
Our findings show that GO has potent anti-leukaemic effects: there is a significant reduction in treatment-resistant disease by 23 % (
p
 = 0.0009), but this is at the expense of an increased induction death rate (
p
 = 0.02), leading to no improvement in CR rates. The addition of GO to chemotherapy treatment increases RFS by 10 % (
p
 = 0.01) by reducing the rate of disease relapse. The reason for the reduction in relapse is difficult to extrapolate from clinical trials, but the ALFA 0701 group has shown that patients treated with gemtuzumab may have a deeper level of remission, as measured by
NPM1
transcript levels [
34
].
This systematic review and meta-analysis provides a comprehensive synthesis of the research on the effect of the current anti-CD33 agents on all outcomes, at all treatment stages and age. The meta-analysis of OS and RFS involved 6880 and 4366 patients, respectively. Three meta-analyses [
31
–
33
] have recently been published regarding the use of GO with all three concentrating on induction treatment of AML. One study concurs on our finding that GO improves RFS at the expense of early mortality in induction [
33
] despite the inclusion of a trial [
19
] that we excluded due to the control treatment having a different concomitant chemotherapy regimen to the GO arm. The second review [
32
] concurs with our other outcome findings in the induction subgroup analyses (including resistant disease and relapse rates), notably on cytogenetic stratification. In contrast to both reviews, we have included data from more recently published trials [
20
,
27
] which have added data for an additional 1494 patients, including unique data on the use of GO in induction remission in the paediatric setting. The third meta-analysis [
31
] is an individual patient data (IPD) meta-analysis that included five induction trials [
16
–
18
,
25
,
26
]. This also omits the new data [
20
,
27
] which may be one explanation regarding the differences in conclusions: where in our study we find a statistically significant increase in induction deaths, only 30-day mortality is reported in the IPD meta-analysis from Hills et al., and although there is a trend to favour no GO, this was not statistically significant. Furthermore, whilst they detect a significant improvement in OS in an overall analysis, this is not corroborated by our systematic review and meta-analysis.
The overall effect of GO was seen only in RFS but not in OS. GO improves OS in patients with favourable cytogenetic AML (patients with core-binding factor translocations), with borderline significance for those with intermediate-risk cytogenetics. This suggests that in the treatment of patients with core-binding factor leukaemia, GO should become standard of care. There was insufficient data to comment on the effect of GO on OS in other favourable prognostic groups such as those with NPM1 mutation. This ability to only improve survival in favourable but not poor prognostic AML is in keeping with conventional chemotherapy agents, as opposed to immune-mediated therapies, such as graft-versus-leukaemia effect in allogeneic stem cell transplants which are effective against adverse-risk AML [
35
]. One possible reason why GO might improve RFS but not OS in the overall analysis is the presence of salvage treatments and subsequent allogeneic haematopoietic stem cell transplantation (HSCT) as a way of consolidating second remissions [
36
].
In our predefined subgroup analysis of age, we used 60 years of age (based on the median age of trial entrants where available) as a threshold. There is no evidence that the benefit of GO is only restricted to younger patients. This is notable: GO was granted early FDA approval because of success in an older age group [
5
]. Furthermore, there is a dearth of successful therapeutic options in this cohort of patients with the outlook for elderly patients considerably poorer than for younger patients, even when they are compared in stratified cytogenetic risk groups [
37
]. Targeted therapies may be better tolerated than conventional chemotherapy. Below 60 years of age, our systematic review resulted in eight randomisations at meta-analysis, only two of which was applicable in the paediatric setting [
22
,
27
]. This is a clinical setting for GO that deserves further attention.
Whilst there is no clear evidence that GO is not effective at other treatment stages, the greatest amount of evidence and the clearest evidence of benefit comes from trials in which GO was used in induction, so we concentrated on these for the subgroup analyses. An analysis of GO based on treatment stage showed it is an effective adjunct in the induction treatment of AML. There is currently no evidence to suggest that it is of benefit in use at any other treatment stages; this suggests optimisation of induction trials warrants the greatest attention. The improvement in RFS is clearly seen when GO was used as part of induction therapy, with improvements of 14 % (
p
 = 0.0007) detected driven by improvements in relapse rates of 19 % (
p
 = 0.00003).
It is of particular interest to note that the trial [
25
] which led to withdrawal of GO from the market had a different dose of anthracycline (GO to no GO arm, 45 to 60 mg/m
2
). This stood out on the confounding treatment subgroup analysis, whereas those trials without a confounding treatment had an overall improvement in OS (test for heterogeneity
p
 = 0.09). Apart from this potential explanatory factor, there is no clear reason for the heterogeneity observed between induction trials as subgroup analyses did not provide any clear evidence. An initial report of the use of GO in AML delivered a dose of 9 mg/m
2
[
5
]. However, a considerable range in terms of both cycle numbers and doses per cycle was seen in subsequent trials. A recent study [
18
] had suggested their highly fractionated protocol allowed the safe administration of a higher cumulative dose of drug and was part of the reason why they saw a notable benefit for GO in their trial. In contrast, in another study, GO was delivered prior to the use of conventional chemotherapy [
20
]. This difference in scheduling may be a reason behind the heterogeneity between these two studies seen in our meta-analysis notably in DCR (supplementary figure
2
), RFS by treatment stage (Fig.
4
) and OS by cytogenetics (Fig.
6
). Our study demonstrates that subgroups based on cumulative doses (above and below 9 mg/m
2
) did not show an advantage in OS and RFS for a higher dose. Overall, this suggests that simple increases in the cumulative dose of GO, inevitably associated with higher toxicity, may be unnecessary.
One striking finding was that the benefit of GO was not significantly reliant on CD33 positivity. This analysis was limited by the fact that available published data did not provide outcome data on more detailed CD33 expression stratification, and thus brought together a potentially heterogeneous group. Publications did not detail the size of CD33+/− precursor populations, which is likely to have significant bearing [
38
] on anti-CD33 treatment efficacy, as this may determine the presence of a residual clone that may escape targeted therapy.
The diverse settings and regimens in which anti-CD33 agents have been employed likely explain the varying results seen with this agent, which has led to questions regarding the overall efficacy of the treatment. There is clear evidence of the anti-leukaemic effects of anti-CD33 therapy with GO in reducing rates of resistant disease and relapse rates. There is no significant effect on overall OS, although there was an OS benefit, based on cytogenetic analysis, in those with favourable core-binding factor translocations. Given the paucity of new agents in the treatment of this condition, this suggests this drug should not be discarded but further trials are warranted to further optimise the delivery of this drug to allow more patients with AML to benefit from this treatment.
Acknowledgments
We would like to thank CRUK core funding for Birmingham CRCTU, Sue Bayliss for her help in devising search strategies and all the authors we have contacted for updates on progress of their trials.
Authors' contribution
JL performed searches, selected studies for inclusion and extracted data. JK selected studies for inclusion and extracted and analysed data. JW extracted data and provided methodological advice. CC provided clinical expertise. KW provided methodological advice, analysed data and performed overall supervision. JL, JK, JW, CC and KW all contributed to the writing of the paper and approved the final draft.
Conflict of interest
The authors declare that they have no conflict of interest.
Funding
This study was supported by CRUK core funding to Birmingham CRCTU.
Disclosure
The authors confirm that there are no financial disclosures for this study.
Open Access
This article is distributed under the terms of the Creative Commons Attribution License which permits any use, distribution, and reproduction in any medium, provided the original author(s) and the source are credited.