01.12.2012 | Original investigation | Ausgabe 1/2012 Open Access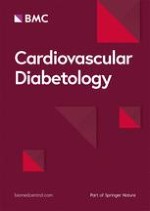 Myocardial dysfunction in patients with type 2 diabetes mellitus: role of endothelial progenitor cells and oxidative stress
Zeitschrift:
Autoren:

Chun Ting Zhao, Mei Wang, Chung Wah Siu, Ying Long Hou, Tian Wang, Hung Fat Tse, Kai Hang Yiu
Wichtige Hinweise
Competing interests
The authors declare that there is no competing interest associated with this manuscript.
Authors' contributions
CTZ coordinated analyses, interpreted results and wrote the manuscript. MW performed statistical analyses and revised the manuscript. CWS advised and supervised statistical analyses and revised the manuscript. YLH and TW were involved in the conception and design of the study, interpretation of the data, ongoing support and advice to the first author. KHY contributed to study design, data interpretation and manuscript revision. HFT designed and led the project and revised the manuscript. All authors have approved the final version of the manuscript.
Abstract
Background
Endothelial progenitor cells (EPCs) are responsible for angiogenesis and maintenance of microvascular integrity, the number of EPCs is correlated with oxidative stress. Their relation to myocardial dysfunction in patients with type 2 diabetes mellitus (T2DM) is nonetheless unknown.
Methods
Eighty-seven patients with T2DM and no history of coronary artery disease were recruited. Transthoracic echocardiography and detailed evaluation of left ventricular (LV) systolic function by 2-dimensional (2D) speckle tracking derived strain analysis in 3 orthogonal directions was performed. Four subpopulations of EPCs, including CD34+, CD133+, CD34+/kinase insert domain-containing receptor (KDR) + and CD133+/KDR + EPCs, were measured by flow cytometry. Oxidative stress was assessed by superoxide dismutase (SOD).
Results
The mean age of the patients was 62 ± 9 years and 39.6% were male. Those with an impaired longitudinal strain had a lower number of CD34+ EPCs (2.82 ± 1.87% vs. 3.74 ± 2.12%, P < 0.05) than those with preserved longitudinal strain. When compared with those with preserved circumferential strain, patients with an impaired circumferential strain had a lower number of CD34+ EPCs (2.63 ± 1.80% vs. 3.87 ± 2.10%, P < 0.01) and SOD level (0.13 ± 0.06U/ml vs. 0.20 ± 0.08U/ml, P < 0.01). Patients with an impaired radial strain nonetheless had a lower number of CD34+ EPCs (2.62 ± 2.08% vs. 3.69 ± 1.99%, P < 0.05). Multivariate analysis demonstrated that only impaired global circumferential strain remained significantly associated with CD34 + EPCs and SOD.
Conclusions
LV global circumferential strain was independently associated with number of CD34+ EPCs and SOD. These findings suggest that myocardial dysfunction in patients with T2DM is related to depletion of EPCs and increased oxidative stress.