01.12.2017 | Case report | Ausgabe 1/2017 Open Access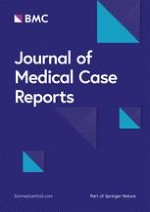 Myoclonic seizure prior to diagnosis of chronic toxic encephalopathy: a case report
Zeitschrift:
Autor:

Wim L. C. Van Hooste
Background
"Thinner" is a widely used industrial volatile liquid, a mixture of organic solvents (OS), used especially to thin paint. Toluene is the main component found in commercially available thinners. Exposure to OS is usually not considered to be a possible cause of epilepsy, despite descriptions of toxic effects on the central nervous system (CNS). We report a case of myoclonic seizure at the workplace that shows a remarkable coincidence between the exposure to an OS mixture and the occurrence of an epileptic seizure. Two years after the insult chronic toxic encephalopathy (CTE) was diagnosed.
Case presentation
We present the case of a 50-year-old Belgian woman, occupationally exposed to OS for more than 20 years while employed at a paintbrush manufactory. At 18 years of age she was employed at a Belgian dry cleaning service for 6 years, without exposure to perchloroethylene (PER). From 26 years of age, her work tasks involved the use of OS mixtures and were performed without the use of proper collective or personal airway protection because her employer had neither invested in nor provided these preventive measures. In 2009, the biological monitoring of her hippuric acid in urine, the primary urinary metabolite of toluene, demonstrated a value (2540 mg/l) exceeding the threshold limit value (TLV) of 1600 mg/l of the American Conference of Governmental Industrial Hygienists [
1
]. In October 2012 her work task was removing paint from wrongly colored paintbrushes manufactured in China. Shortly after the start of this task, she began to complain of intense headaches, fatigue, asthenia, irritability, feeling of drunkenness, sleeping disturbances (sleepiness or, in contrast, difficulty in falling asleep), nausea, and paresthesia in her feet. She associated all of these classic symptoms of acute solvent intoxication with the use of the OS mixture, a thinner containing a high level of toluene, with which she worked permanently for over 2 months in a poorly ventilated work environment. Most symptoms disappeared during the weekend. She also had visual perception disturbances (scotomata). On a Thursday morning, 12 December 2012, she was very confused at her workplace and had aphasia. This was followed by involuntary myoclonic-type movements in all four limbs lasting for several minutes, she bit her tongue, and a loss of consciousness, possibly with prodromal aura phenomenon. After the seizures she was confused for a long time, with disorientation (postictal state). She was transported to a hospital. On admission, physical and neurologic examinations revealed no abnormalities. A blood count and blood biochemistry demonstrated normal liver and kidney tests, no elevated C-reactive protein, slightly elevated D-dimers, and elevated lactic acid. Unfortunately no toluene levels in blood were measured. An electrocardiogram (ECG) was sinusal. Her standard electroencephalogram (EEG) and brain computed tomography (CT) were within limits. Differentiating between cardiogenic or convulsive syncope and seizure is a diagnostic problem and challenge when involuntary movements (myoclonic jerks) are involved. In favor for the diagnosis of seizure were the episode duration of several minutes and that no arrhythmias were demonstrated. We found no arguments for triggered complex migraine and migralepsy before the seizure.
This event was her first epileptic insult. In her medical history we found a history of migraine, an extra-uterine pregnancy, female sterilization, and epicondylitis lateralis. Many etiological factors were investigated: non-toxicological and some toxicological (alcohol or any other addictive substances abuse) causes were excluded. She did not take or had not recently stopped any medication. There was no familial history of epilepsy. Further, there was no history of any disease prenatally, perinatally, or in childhood. She did not have and had not had any psychiatric illness, learning disability, attention deficit disorder, or a craniocerebral trauma.
She was observed at the hospital for 24 hours. No anti-epileptic drugs were started because of this first epileptic episode. Seizures did not reappear after work removal, although intoxication signs and symptoms remained.
A magnetic resonance imaging (MRI) of her brain performed approximately 2 months after the insult was within limits. A single-photon emission computed tomography (SPECT) of her brain did not demonstrate signs of Alzheimer disease or dementia.
Because some of her signs and symptoms (such as intense headaches, fatigue, asthenia, and irritability) continued in 2013, she was referred to a neurologist with expertise in CTE in 2014, who diagnosed that she had CTE type 2b. Later that same year, she developed a depression secondary to the diagnosis of CTE.
Tests for volatile organic compounds (VOC) at her workplace were consequently carried out on 19 November 2015. Three out of 18 air samples of different work task sites at the manufactory exceeded the Belgian time-weighted average (TWA; 8 hours) of 77 mg/m 3 for toluene (90, 94, and 113 mg/m 3). Measurements of 2-butanone, n-Butyl acetate, ethanol, isobutyl alcohol, and isopropyl alcohol did not exceed the Belgian TWA (8 hours).
Discussion
Conclusions
In conclusion, we have reported the case of a patient with a myoclonic seizure probably induced by OS poisoning. This case suggests a possible unusual neurological presentation of occupational exposure to OS. This case suggests a chronological connection between a high occupational exposure to solvents and an epileptic insult, but it is not possible to identify a definite causal relationship (anecdotal evidence because it is retrospective and not controlled) [
17
]. Animal data support the causal association of this biologically plausible event. We found no other plausible cause other than the acute and chronic high OS exposure.
Acknowledgements
We wish to thank Dr Ledegen Johan (general practitioner) and Dr Caekebeke Jo (neurologist) for providing relevant medical data.
Special thanks to Prof Dr Godderis Lode (Catholic University of Leuven, Belgium and IDEWE) for his comments and critical review of this manuscript, and to the library of IDEWE.
Funding
No funding to declare.
Availability of data and materials
Data sharing and supporting materials are not applicable to this article as no datasets were generated or analyzed during the current study.
Authors' contributions
WVH drafted and wrote the manuscript.
Competing interests
We have read and understood BMC policy on declaration of interests and declare that we have no competing interests.
Consent for publication
Written informed consent was obtained from the patient for publication of this case report. A copy of the written consent is available for review by the Editor-in-Chief of this journal.
Ethics approval and consent to participate
Not applicable.
Open Access
This article is distributed under the terms of the Creative Commons Attribution 4.0 International License (
http://​creativecommons.​org/​licenses/​by/​4.​0/​
), which permits unrestricted use, distribution, and reproduction in any medium, provided you give appropriate credit to the original author(s) and the source, provide a link to the Creative Commons license, and indicate if changes were made. The Creative Commons Public Domain Dedication waiver (
http://​creativecommons.​org/​publicdomain/​zero/​1.​0/​
) applies to the data made available in this article, unless otherwise stated.