01.04.2010 | Research article | Ausgabe 2/2010 Open Access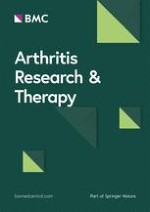 Myofiber stress-response in myositis: parallel investigations on patients and experimental animal models of muscle regeneration and systemic inflammation
Zeitschrift:
Autoren:

Maurizio Vitadello, Andrea Doria, Elena Tarricone, Anna Ghirardello, Luisa Gorza
Wichtige Hinweise
Electronic supplementary material
The online version of this article (doi:
10.​1186/​ar2963
) contains supplementary material, which is available to authorized users.
Maurizio Vitadello, Andrea Doria contributed equally to this work.
Competing interests
The authors declare that they have no competing interests.
Authors' contributions
MV carried out the animal experimental studies, participated in the design of the study and drafted the manuscript. AD selected the patient cohorts, participated in the design of the study and drafted the manuscript. ET carried out immunohistochemistry and western blot analyses on patient biopsies. AG carried out the immunological profile of myositis patients. LG conceived the study, participated in its design and coordination, and helped to draft the manuscript. All authors read and approved the final manuscript.
Abstract
Introduction
The endoplasmic reticulum (ER) stress-response, evoked in mice by the overexpression of class I major histocompatibility complex antigen (MHC-I), was proposed as a major mechanism responsible for skeletal muscle damage and dysfunction in autoimmune myositis. The present study was undertaken to characterize in more detail the ER stress-response occurring in myofibers of patients with inflammatory myopathies, focusing on the expression and distribution of Grp94, calreticulin and Grp75, three ER chaperones involved in immunomodulation.
Methods
Muscle biopsies were obtained from seven healthy subjects and 29 myositis patients, who were subdivided into groups based on the morphological evidence of inflammation and/or sarcolemmal immunoreactivity for MHC-I. Biopsies were analyzed by means of immunohistochemistry and western blot using anti-Grp94, anti-calreticulin and anti-Grp75 specific antibodies. Parallel analyses on these ER chaperones were conducted in rabbit and/or murine skeletal muscle after experimental induction of regeneration or systemic inflammation.
Results
Upregulation of Grp94 characterized regenerating myofibers of myositis patients (
P
= 0.03, compared with values detected in biopsies without signs of muscle regeneration) and developing and regenerating myofibers of mouse muscles. Conversely, levels of calreticulin and Grp75 increased about fourfold and twofold, respectively, in patient biopsies positive for sarcolemmal MHC-I immunoreactivity, compared with healthy subjects and patients negative for both inflammation and MHC-I labeling (
P
< 0.005). Differently from calreticulin, the Grp75 level increased significantly also in patient biopsies that displayed occasional sarcolemmal MHC-I immunoreactivity (
P
= 0.002), suggesting the interference of other mechanisms. Experimental systemic inflammation achieved in mice and rabbits by a single injection of bacterial lipopolysaccharide significantly increased Grp75 and calreticulin but not MHC-I expression in muscles.
Conclusions
These results indicate that, in myositis patients, muscle regeneration and inflammation, in addition to MHC-I upregulation, do evoke an ER stress-response characterized by the increased expression of Grp94 and Grp75, respectively. The increase in the muscle Grp75 level in patients showing occasional immunoreactivity for sarcolemmal MHC-I might be considered further as a broader indicator of idiopathic inflammatory myopathy.