01.12.2014 | Research | Ausgabe 1/2014 Open Access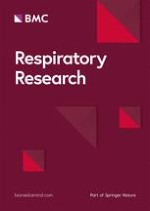 N-acetylcysteine improves established monocrotaline-induced pulmonary hypertension in rats
Zeitschrift:
Autoren:

Marie-Camille Chaumais, Benoît Ranchoux, David Montani, Peter Dorfmüller, Ly Tu, Florence Lecerf, Nicolas Raymond, Christophe Guignabert, Laura Price, Gérald Simonneau, Sylvia Cohen-Kaminsky, Marc Humbert, Frédéric Perros
Wichtige Hinweise
Electronic supplementary material
The online version of this article (doi:
10.​1186/​1465-9921-15-65
) contains supplementary material, which is available to authorized users.
Competing interests
The authors declare that they have no competing interests.
Authors' contributions
MCC, BR, DM, FP and LP drafted the manuscript. MCC, BR and FP carried out animal experiments and RT-PCR and designed the study. MCC, BR, PD, FL and NR carried out histochemistry, immunohistochemistry and immunofluorescence assays. MCC, BR and PD carried out morphometry and histomorphological analysis. MCC, LT, DM, FP and participated in the design of the study and performed the statistical analysis. SCK, CG, GS, MH, and FP helped to coordinate the study. All authors read and approved the final manuscript.
Abstract
Background
The outcome of patients suffering from pulmonary arterial hypertension (PAH) are predominantly determined by the response of the right ventricle to the increase afterload secondary to high vascular pulmonary resistance. However, little is known about the effects of the current available or experimental PAH treatments on the heart. Recently, inflammation has been implicated in the pathophysiology of PAH. N-acetylcysteine (NAC), a well-known safe anti-oxidant drug, has immuno-modulatory and cardioprotective properties. We therefore hypothesized that NAC could reduce the severity of pulmonary hypertension (PH) in rats exposed to monocrotaline (MCT), lowering inflammation and preserving pulmonary vascular system and right heart function.
Methods
Saline-treated control, MCT-exposed, MCT-exposed and NAC treated rats (day 14–28) were evaluated at day 28 following MCT for hemodynamic parameters (right ventricular systolic pressure, mean pulmonary arterial pressure and cardiac output), right ventricular hypertrophy, pulmonary vascular morphometry, lung inflammatory cells immunohistochemistry (monocyte/macrophages and dendritic cells), IL-6 expression, cardiomyocyte hypertrophy and cardiac fibrosis.
Results
The treatment with NAC significantly decreased pulmonary vascular remodeling, lung inflammation, and improved total pulmonary resistance (from 0.71 ± 0.05 for MCT group to 0.50 ± 0.06 for MCT + NAC group, p < 0.05). Right ventricular function was also improved with NAC treatment associated with a significant decrease in cardiomyocyte hypertrophy (625 ± 69
vs.
439 ± 21 μm
2
for MCT and MCT + NAC group respectively, p < 0.001) and heart fibrosis (14.1 ± 0.8
vs.
8.8 ± 0.1% for MCT and MCT + NAC group respectively, p < 0.001).
Conclusions
Through its immuno-modulatory and cardioprotective properties, NAC has beneficial effect on pulmonary vascular and right heart function in experimental PH.