01.12.2017 | Research article | Ausgabe 1/2017 Open Access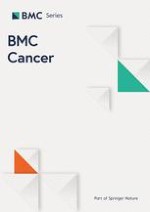 N-glycosylation of serum proteins for the assessment of patients with IgD multiple myeloma
Zeitschrift:
Autoren:

Jie Chen, Meng Fang, Xiaoling Chen, Changhong Yi, Jun Ji, Cheng Cheng, Mengmeng Wang, Xing Gu, Quansheng Sun, Chunfang Gao
Wichtige Hinweise
Electronic supplementary material
Abstract
Background
Because glycosylation is one of the most common post-translational modifications of proteins and because changes in glycosylation have been shown to have a significant correlation with the development of many cancer types, we investigated the serum N-glycome used to diagnose, stage and evaluate the pathological outcomes in IgD multiple myeloma.
Methods
Serum samples were available for 20 patients with IgD multiple myeloma, 41 patients with light chain multiple myeloma and 42 healthy control subjects. Serum N-glycans were released and analysed using DNA sequencer-assisted fluorophore-assisted capillary electrophoresis.
Results
Characteristic changes were revealed in the serum N-glycome of IgD myeloma. In particular, three N-glycans (NG1(6)A2F, Peak3; NG1(3)A2F, Peak4; NA2FB, Peak7) showed increased clinical value. The best area under the ROC curve of NG1(6)A2F to diagnose IgD myeloma was 0.981, with a 95.0% sensitivity and 95.2% specificity, and that of NG1(3)A2F was 0.936, with a 95.0% sensitivity and 78.6% specificity. The best area under the ROC curve of NA2FB/NG1(3)A2F to differentially diagnose IgD myeloma versus light chain myeloma was 0.744, with a 95.3% sensitivity and 50.0% specificity. The level of NG1(3)A2F was correlated with the international staging system, while the higher abundance of NA2FB presented in IgD myeloma was predictive of a shorter progression-free survival.
Conclusions
The advent of serum N-glycan signatures may play a role in the diagnosis, staging and prognosis of IgD myeloma and will serve as the foundation for a precision medicine approach to this rare subtype of multiple myeloma.