01.02.2013 | 2012 SSAT Poster Presentation | Ausgabe 2/2013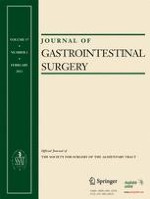 N0/N1, PNL, or LNR? The Effect of Lymph Node Number on Accurate Survival Prediction in Pancreatic Ductal Adenocarcinoma
Zeitschrift:
Autoren:

Nakul P. Valsangkar, Devon M. Bush, James S. Michaelson, Cristina R. Ferrone, Jennifer A. Wargo, Keith D. Lillemoe, Carlos Fernández-del Castillo, Andrew L. Warshaw, Sarah P. Thayer
Wichtige Hinweise
This study was presented, in part, at the 45th Annual Meeting of the Pancreas Club, Chicago, Illinois, May 6, 2011 and the 52nd Annual Meeting of The Society for Surgery of the Alimentary Tract, Chicago, Illinois, May 8, 2011.
Abstract
Introduction
We evaluated the prognostic accuracy of LN variables (N0/N1), numbers of positive lymph nodes (PLN), and lymph node ratio (LNR) in the context of the total number of examined lymph nodes (ELN).
Methods
Patients from SEER and a single institution (MGH) were reviewed and survival analyses performed in subgroups based on numbers of ELN to calculate excess risk of death (hazard ratio, HR).
Results
In SEER and MGH, higher numbers of ELN improved the overall survival for N0 patients. The prognostic significance (N0/N1) and PLN were too variable as the importance of a single PLN depended on the total number of LN dissected. LNR consistently correlated with survival once a certain number of lymph nodes were dissected (≥13 in SEER and ≥17 in the MGH dataset).
Conclusions
Better survival for N0 patients with increasing ELN likely represents improved staging. PLN have some predictive value but the ELN strongly influence their impact on survival, suggesting the need for a ratio-based classification. LNR strongly correlates with outcome provided that a certain number of lymph nodes is evaluated, suggesting that the prognostic accuracy of any LN variable depends on the total number of ELN.