11.01.2017 | Brief Report | Ausgabe 1/2017 Open Access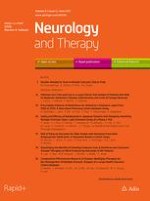 Natalizumab for Achieving Relapse-Free, T1 Gadolinium-Enhancing-Lesion-Free, and T2 Lesion-Free Status in Japanese Multiple Sclerosis Patients: A Phase 2 Trial Subanalysis
Zeitschrift:
Autoren:

Takahiko Saida, Jun-Ichi Kira, Shuji Kishida, Takashi Yamamura, Nobuhisa Ohtsuka, Qunming Dong, J. T. Tibung
Abstract
Introduction
In a phase 2 trial of natalizumab in Japanese patients with relapsing-remitting multiple sclerosis (RRMS), treatment-related changes in relapses, brain lesions, and disability worsening were found to be comparable with those observed in the phase 3 studies of natalizumab in primarily non-Asian RRMS patients.
Methods
This subanalysis of the placebo-controlled phase 2 trial of natalizumab in Japanese RRMS patients (
n
= 94) evaluated the effects of natalizumab versus placebo on the proportion of patients who achieved relapse-free, T1 gadolinium-enhancing (Gd+) lesion-free, and new/newly enlarged T2 lesion-free status, defined as "no evidence of inflammatory disease activity" (NEDA)–like status, after 24 weeks of treatment.
Results
In this subanalysis, significantly more natalizumab-treated than placebo-treated patients achieved NEDA-like status (76.6% vs. 31.9%;
P
< 0.0001). In addition, the odds ratio (95% confidence interval) for patients on natalizumab to reach NEDA-like status was 6.98 (2.80–17.38) compared with placebo patients.
Conclusion
These results confirm previous findings indicating that natalizumab is efficacious in Japanese patients with RRMS.
Funding
Biogen.
Trial Registration:
ClinicalTrials.gov identifier, NCT01440101.