25.03.2020 | Übersicht | Ausgabe 2/2020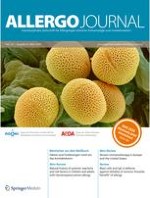 Natural history of systemic reactions and risk factors in children and adults with Hymenoptera venom allergy
Zeitschrift:
Autoren:

Darío Antolín-Amérigo, Berta Ruiz-León, A. Vega-Castro, Belén de la Hoz Caballer
Abstract
Purpose:
Stings by Hymenoptera usually cause just local reactions. However, in some cases, they can induce systemic symptoms and even fatal reactions. The natural history and the risk factors of severe systemic reactions are presented in this review.
Methods:
Both the natural history and risk factors of systemic reactions due to insect stings are unraveled. This publication is based on a selective literature search in PubMed, Web of Science, and EMBASE (until 30 July 2019). Recent publications about insect venom allergy in English journals were analyzed. This literature search included original and review articles and relevant abstracts of allergy congresses in English.
Results:
Risk factors are classified as follows: (1) patient-related, (2) allergen-related and (3) reaction-related and also risk factor associated to venom immunotherapy (VIT) are considered. Due to the scarcity of data about the suitability of premedication before and during VIT, a succinct table gathering available premedication invites further investigation.
Conclusions:
There is limited evidence with regard to the natural history of HVA both in adults and in children. Several risk factors may influence the natural history of HVA, namely patient-related, allergen-related and reaction-related. Other factors are inherent to the use of venom immunotherapy (VIT).