01.12.2018 | Research article | Ausgabe 1/2018 Open Access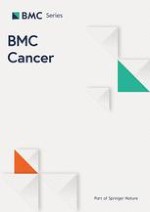 Natural product derivative Gossypolone inhibits Musashi family of RNA-binding proteins
Zeitschrift:
Autoren:

Lan Lan, Hao Liu, Amber R. Smith, Carl Appelman, Jia Yu, Sarah Larsen, Rebecca T. Marquez, Xiaoqing Wu, Frank Y. Liu, Philip Gao, Ragul Gowthaman, John Karanicolas, Roberto N. De Guzman, Steven Rogers, Jeffrey Aubé, Kristi L. Neufeld, Liang Xu
Wichtige Hinweise
Electronic supplementary material
Lan Lan and Hao Liu contributed equally to this work.
Abstract
Background
The Musashi (MSI) family of RNA-binding proteins is best known for the role in post-transcriptional regulation of target mRNAs. Elevated MSI1 levels in a variety of human cancer are associated with up-regulation of Notch/Wnt signaling. MSI1 binds to and negatively regulates translation of
Numb
and
APC
(adenomatous polyposis coli), negative regulators of Notch and Wnt signaling respectively.
Methods
Previously, we have shown that the natural product (−)-gossypol as the first known small molecule inhibitor of MSI1 that down-regulates Notch/Wnt signaling and inhibits tumor xenograft growth in vivo. Using a fluorescence polarization (FP) competition assay, we identified gossypolone (Gn) with a > 20-fold increase in Ki value compared to (−)-gossypol. We validated Gn binding to MSI1 using surface plasmon resonance, nuclear magnetic resonance, and cellular thermal shift assay, and tested the effects of Gn on colon cancer cells and colon cancer DLD-1 xenografts in nude mice.
Results
In colon cancer cells, Gn reduced Notch/Wnt signaling and induced apoptosis. Compared to (−)-gossypol, the same concentration of Gn is less active in all the cell assays tested. To increase Gn bioavailability, we used PEGylated liposomes in our in vivo studies. Gn-lip via tail vein injection inhibited the growth of human colon cancer DLD-1 xenografts in nude mice, as compared to the untreated control (
P
 < 0.01,
n
 = 10).
Conclusion
Our data suggest that PEGylation improved the bioavailability of Gn as well as achieved tumor-targeted delivery and controlled release of Gn, which enhanced its overall biocompatibility and drug efficacy in vivo. This provides proof of concept for the development of Gn-lip as a molecular therapy for colon cancer with MSI1/MSI2 overexpression.