01.12.2018 | Research article | Ausgabe 1/2018 Open Access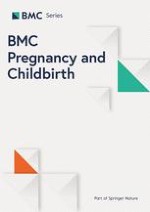 Nausea and vomiting in pregnancy – association with pelvic girdle pain during pregnancy and 4-6 months post-partum
Zeitschrift:
Autoren:

Arthur Chortatos, Per Ole Iversen, Margaretha Haugen, Malin Eberhard-Gran, Elisabeth Krefting Bjelland, Marit B. Veierød
Wichtige Hinweise
Electronic supplementary material
Abstract
Background
To better understand previous associations reported regarding nausea and vomiting in pregnancy (NVP) and pelvic girdle pain (PGP), an investigation into timing of symptom onset for NVP and PGP in pregnancy, as well as the association of NVP with PGP 4-6 months post-partum was performed. We hypothesised that women with NVP symptoms would be most susceptible to experiencing persistence of PGP post-partum.
Methods
Fifty two thousand six hundred seventy-eight pregnancies from the Norwegian Mother and Child Cohort Study were analysed regarding nausea, vomiting, pelvic girdle pain, and health outcome data collected from questionnaires answered between gestation weeks 15, 20, 30, and 6 months post-partum. Logistic regression was used.
Results
Women experiencing NVP and PGP together (6.9%) were heaviest in the sample, youngest at menarche and had highest proportion with education ≤12 years. The primiparous women in this group had the lowest timespan from menarche to pregnancy. Women with nausea alone (NP) and NVP had higher odds of PGP 4-6 months post-partum (adjusted odds ratio, aOR = 2.14, 95% CI 1.70–2.71, and aOR = 2.83, 95% CI 2.25–3.57, respectively), compared to symptom-free women. NP/NVP symptoms appeared early in the first trimester, while PGP symptoms appeared later in pregnancy. Women with longer durations of nausea and/or vomiting had a higher proportion of PGP compared to shorter duration women.
Conclusions
Women with NP and NVP had increased odds of PGP 4-6 months post-partum, and women with a long duration of nausea and/or vomiting had a higher proportion of PGP than women with shorter duration, both during pregnancy and 4-6 months post-partum. This finding suggests a synergistic relationship between NP/NVP and PGP.