01.12.2017 | Research article | Ausgabe 1/2017 Open Access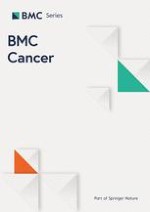 Negative lymph node count is an independent prognostic factor for patients with rectal cancer who received preoperative radiotherapy
Zeitschrift:
Autoren:

Xinxing Li, Hao Lu, Kai Xu, Haolu Wang, Xiaowen Liang, Zhiqian Hu
Abbreviations
Pre-RT
Preoperative radiotherapy
SEER
Surveillance, Epidemiology, and End Results Program
Background
Rectal cancer (RC) is one of the most common malignancies in the USA, and the incidence of RC in Asian countries is increasing rapidly and has been considered to be similar to that of the Western countries [
1
]. Preoperative radiotherapy (Pre-RT) has become part of standard practice offered to improve treatment outcomes in patients with RC because of the oncologic benefit of reduced local recurrence rate [
2
]. But till now, there is still lack of effective means for accurate prognostic evaluation on the survival.
It is widely thought that lymph node (LN) metastasis indicates worse tumor response grade and poorer survival. According to the guidelines for RC from the National Comprehensive Cancer Network, a minimum of twelve lymph nodes must be retrieved and examined for accurate staging and the number of metastatic LNs was validated as an independent prognostic factors [
3
]. While the node-positive patients with RC are heterogeneous and the prognosis of these patients cannot be stratified by the node-stage only [
3
,
4
]. Therefore, the concept of negative lymph node (NLN) counts has attracted attention recently as a prognostic indicator in various cancers, including breast [
5
], cervical [
6
], and esophagus [
7
]. It has been reported that the number of NLNs was an independent prognostic factor for patients with colon cancer [
8
]. However, Pre-RT can yield tumor downstaging, reduce the burden of residual microscopic disease at surgery and reduce the number of LNs retrieved in operation [
9
]. With the decreased LNs retrieval, the prognostic value of the LN count might also diminish [
10
]. It has been reported that increased number of NLNs is associated with improved survival in pathological IIIB and IIIC RC treated with Pre-RT [
7
]. While it is still unclear whether NLN still has prognostic value count on survival of all patients with RC, including stage I and II, who received Pre-RT. The purpose of this study was to assess the association between NLN count and survival of patients with RC of all stages who received Pre-RT. In order to get convincing results in a larger series patients, we used the SEER (Surveillance, Epidemiology and End Results)-registered database to analyze this association, and determine the optimal cutoff value of NLN count.
Methods
Study population and data extracted
The SEER (Surveillance, Epidemiology, and End Results Program) database and SEER-stat software (SEER∗Stat 8.3.2) were used to identify patients whose pathological diagnosis as RC between 2004 and 2010. Only patients who underwent Pre-RT and surgical treatment with age of diagnosis more than 18 years were included. Histological type were limited to adenocarcinoma (8140/3), carcinoma (8010/3; 8020/3; 8021/3 and 8145/3) and signet ring cell carcinoma (8490/3). Patients were excluded if they had only local excision following Pre-RT, multiple primary malignant neoplasms, incomplete TNM staging, with distant metastasis (M1), no evaluation on LNs, died within 30 days after surgery or information on CSS and survival months unavailable.
Year of diagnosis, age, sex, race, grade, histologic type, ypT stage, number of LNs examined, number of positive LNs and CSS were assessed. TNM classification was restaged according to the criteria described in the AJCC Cancer Staging Manual (7th edition, 2010).
Statistical analysis
The NLNs cutoff points were determined using the X-tile program, which identified the cutoff value with the minimum
P
values from log-rank χ2 statistics for the categorical NLNs in terms of CSS. Baseline characteristics were compared using the X2 test for nominal variables. Survival curves were generated using Kaplan-Meier analyses, and the differences between the curves were analyzed by log-rank test. Cox regression models were built for analysis of risk factors for survival outcomes. Statistical analyses were performed using the statistical software package SPSS for Windows, version 19.0 (SPSS Inc., Chicago, IL). All
P
values were two-sided.
P
< 0.05 was considered statistically significant.
Results
Discussion
Conclusions
Our results firmly demonstrated that NLN count was an independent prognostic factor for patients with RC who received Pre-RT. It could provide more accurate prognostic information for RC patients with Pre-RT (stage ypI, ypII and ypIII, respectively).
Acknowledgements
The authors acknowledged the efforts of the Surveillance, Epidemiology, and End Results (SEER) Program tumor registries in the creation of the SEER database. The interpretation and reporting of these data were the sole responsibility of the authors.
Funding
The design of the study and collection, analysis, and interpretation of data were supported by National Natural Science Foundation of China to Xinxing Li (Grant No. 81402002).
Availability of data and materials
The cohort data are available to researchers and should be requested under the approval of the SEER Program administration. The other datasets supporting the conclusions of this article are included within the article.
Authors' contributions
ZQH conceived and designed the study, XXL, HLW and XWL performed the analyses, KX, HLW and XWL provided assistance in writing the manuscript and support in interpreting results. All authors discussed the results and implications of the analysis and commented on the manuscript at all stages. All authors read and approved the final manuscript.
Competing interests
The authors declare that they have no competing interests.
Consent for publication
Not applicable.
Ethics approval and consent to participate
Because the patients in the SEER database could not be identified, the analysis and reporting of the data in our study were exempt from review by the Ethics Board of Changzheng Hospital, the Second Military Medical University. The requirement for written informed consent to participate was waived. We were permitted to have Internet access after our signed data-use agreement (
http://​seer.​cancer.​gov/​data/​sample-dua.​html
) was approved by the SEER administration.
Publisher's Note
Springer Nature remains neutral with regard to jurisdictional claims in published maps and institutional affiliations.
Open Access
This article is distributed under the terms of the Creative Commons Attribution 4.0 International License (
http://​creativecommons.​org/​licenses/​by/​4.​0/​
), which permits unrestricted use, distribution, and reproduction in any medium, provided you give appropriate credit to the original author(s) and the source, provide a link to the Creative Commons license, and indicate if changes were made. The Creative Commons Public Domain Dedication waiver (
http://​creativecommons.​org/​publicdomain/​zero/​1.​0/​
) applies to the data made available in this article, unless otherwise stated.