01.12.2018 | Case report | Ausgabe 1/2018 Open Access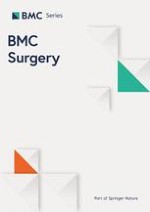 Negative pressure wound therapy and split thickness skin graft aided in the healing of extensive perineum necrotizing fasciitis without faecal diversion: a case report
Zeitschrift:
Autoren:

Yuan Tian, Ting Liu, Chuan-qi Zhao, Ze-yuan Lei, Dong-li Fan, Tong-chun Mao
Wichtige Hinweise
Yuan Tian, Ting Liu and Chuan-qi Zhao contributed equally to this work.
Abstract
Background
Perineum necrotizing fasciitis, also known as Fournier gangrene (FG), is a rare but highly mortal infectious necrotizing fasciitis with or without involvement of the underlying muscle. Evidence exists that negative pressure wound therapy (NPWT) combined with a split thickness skin graft (STSG) can help to heal wounds with FG. However, when the wound spreads to the anal area, it can easily be contaminated by faeces, causing a more extensive wounds; thus, faecal diversion is considered. Here, we report a case of extensive perineum necrotizing fasciitis that spread to near the anus; NPWT combined with STSGs was used to help heal the wound without faecal diversion.
Case presentation
A 47-year-old male patient was admitted with extensive perineum fascia necrosis caused by
Pseudomonas aeruginosa
that rapidly spread to near the anus. After comprehensive therapy completed wound bed preparation, STSGs from the scalp were grafted to the wound, and NPWT was applied to improve STSGs survival and seal the anus without faecal diversion.
After treatment, graft take was 95%, and the exposed testicular and residual wounds were repaired with a local skin flap. At discharge, the wound had decreased to two pea-sized areas. The patient received conventional moist gauze therapy to close the residual wound at the local hospital. A follow-up by telephone 1 month later showed that both wounds had healed and that the patient was satisfied with the outcome.
Conclusion
NPWT use combined with STSGs to cover the whole wound and the anus without faecal diversion is a safe and effective method to help with wound healing and avoid contamination with excrement.