13.06.2016 | Experimental Study | Ausgabe 4/2016 Open Access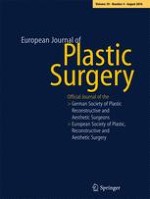 Negative pressure wound therapy induces early wound healing by increased and accelerated expression of vascular endothelial growth factor receptors
Zeitschrift:
Autoren:

Tsuruhito Tanaka, Nirmal Panthee, Yoshifumi Itoda, Naoko Yamauchi, Masashi Fukayama, Minoru Ono
Abstract
Background
Negative pressure wound therapy (NPWT) is commonly used to accelerate wound healing, especially following thoracic surgery; however, the mechanism remains elusive. Given the important role of vasculogenesis in wound healing, we evaluated whether NPWT might accelerate vasculogenesis in the wound area. Toward this end, we investigated the temporal expression of vascular endothelial growth factor receptors (VEGFRs) in an NPWT-wound healing rabbit model.
Methods
Rabbits were divided into an NPWT group and a non-NPWT control group, and tissue samples were collected around wounds made in the skin of each rabbit at five time points: 0, 7, 14, 21, and 28 days after wound creation. Cryopreserved samples were then immunostained and subject to image analysis to evaluate the temporal changes in VEGFR1, VEGFR2, and VEGFR3 expression in the wound-healing process.
Results
Results of histological analysis of the temporal changes in VEGFR expression throughout the healing process showed that compared to the control group, VEGFR2 and VEGFR3 were abundantly and rapidly expressed in the NPWT group, and were expressed earlier than VEGFR1.
Conclusions
NPWT promotes the expression of VEGFR2 and VEGFR3, which provides insight into the mechanism by which NPWT accelerates wound healing.
Level of Evidence: Not ratable.