01.12.2017 | Research | Ausgabe 1/2017 Open Access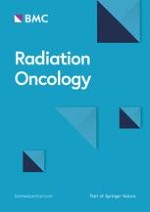 Neoadjuvant FOLFOX chemotherapy combined with radiotherapy followed by radical resection in patients with locally advanced colon cancer
Zeitschrift:
Autoren:

Chun-Ming Huang, Ming-Yii Huang, Cheng-Jen Ma, Yung –Sung Yeh, Hsiang-Lin Tsai, Ching-Wen Huang, Chih-Jen Huang, Jaw-Yuan Wang
Abstract
Background
Patients with locally advanced colon cancer (LACC) have a relatively poor prognosis despite radical resection and adjuvant chemotherapy. This study investigated the treatment efficacy and toxicity of neoadjuvant chemoradiotherapy in patients with LACC.
Methods
We retrospectively reviewed 36 patients with LACC preoperatively treated with chemotherapy and radiotherapy. Patients were administered chemoradiotherapy, which comprised radiotherapy and neoadjuvant chemotherapy involving a 5-fluorouracil, leucovorin, and oxaliplatin regimen every 2 weeks.
Results
Median age was 64 years (45–86 years) and median follow-up period was 23.5 months (5.0–49.1 months). Seven (19.4%) patients developed grade 3 or 4 adverse events during neoadjuvant concurrent chemoradiotherapy. Pathologic responses were not evaluated in two patients who did not undergo radical resection. Of the 34 patients who underwent surgery, nine (26.4%) achieved a pathologic complete response (pCR). The 2-year estimated overall survival and disease-free survival rates were 88.7% and 73.6%, respectively.
Conclusions
Our results demonstrated that neoadjuvant chemoradiotherapy is feasible and safe. A prominent pCR rate with an acceptable toxicity profile suggests that the multimodality therapy might be a treatment option for patients with LACC.