01.09.2013 | Bone and Soft Tissue Sarcomas | Ausgabe 9/2013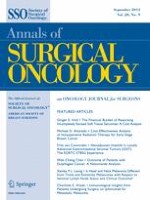 Neoadjuvant Imatinib in Locally Advanced Gastrointestinal Stromal Tumors (GIST): The EORTC STBSG Experience
Zeitschrift:
Autoren:

MD, PhD Piotr Rutkowski, MD Alessandro Gronchi, MD, PhD Peter Hohenberger, MD, PhD Sylvie Bonvalot, MD, MPH Patrick Schöffski, MD, PhD Sebastian Bauer, MD Elena Fumagalli, MD, PhD Pawel Nyckowski, MD Buu-Phuc Nguyen, MD, PhD Jan Martijn Kerst, MD Marco Fiore, BSc Elzbieta Bylina, MD Mathias Hoiczyk, MD, PhD Annemieke Cats, MD Paolo G. Casali, MD Axel Le Cesne, MD, PhD Jürgen Treckmann, MD Eberhard Stoeckle, MD, PhD Johannes. H. W. de Wilt, MD, PhD Stefan Sleijfer, MD Ronald Tielen, MD, PhD Winette van der Graaf, MD, PhD Cornelis Verhoef, MD, PhD Frits van Coevorden
Wichtige Hinweise
Preliminary data of this study were presented during 17th Annual Meeting of Connective Tissue Oncology Society, November 14–17, 2012 in Prague, Czech Republic.
Abstract
Background
Preoperative imatinib therapy of locally advanced GIST may facilitate resection and decrease morbidity of the procedure.
Methods
We have pooled databases from 10 EORTC STBSG sarcoma centers and analyzed disease-free survival (DFS) and disease-specific survival (DSS) in 161 patients with locally advanced, nonmetastatic GISTs who received neoadjuvant imatinib. OS was calculated from start of imatinib therapy for locally advanced disease until death or last follow-up (FU) after resection of the GIST. DFS was calculated from date of resection to date of disease recurrence or last FU. Median FU time was 46 months.
Results
The primary tumor was located in the stomach (55 %), followed by rectum (20 %), duodenum (10 %), ileum/jejunum/other (11 %), and esophagus (3 %). The tumor resection after preoperative imatinib (median time on therapy, 40 weeks) was R0 in 83 %. Only two patients have demonstrated disease progression during neoadjuvant therapy. Five-year DSS/DFS rates were 95/65 %, respectively, median OS was 104 months, and median DFS was not reached. There were 56 % of patients who continued imatinib after resection. Thirty-seven GIST recurrences were diagnosed (only 5 local relapses). The most common mutations affected exon 11
KIT
(65 %). Poorer DFS was related to primary tumor location in small bowel and lack of postoperative therapy with imatinib.
Conclusions
Our analysis comprising the largest group of GIST patients treated with neoadjuvant imatinib in routine practice indicates excellent long-term results of combined therapy in locally advanced GISTs.