01.04.2015 | Pancreatic Tumors | Ausgabe 4/2015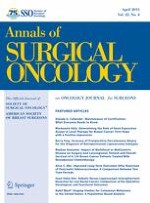 Neoadjuvant Modified (m) FOLFIRINOX for Locally Advanced Unresectable (LAPC) and Borderline Resectable (BRPC) Adenocarcinoma of the Pancreas
Zeitschrift:
Autoren:

PharmD Marlo Blazer, MD Christina Wu, MD Richard M. Goldberg, MAS Gary Phillips, MD Carl Schmidt, MD Peter Muscarella, MD Evan Wuthrick, MD, PhD Terrence M. Williams, PharmD Joshua Reardon, MD E. Christopher Ellison, MD Mark Bloomston, MD Tanios Bekaii-Saab
Wichtige Hinweise
Presented at the 67th Annual Cancer Symposium of the Society of Surgical Oncology, Phoenix, AZ, USA, and presented in part at the 2014 American Society of Clinical Oncology, Gastrointestinal Cancers Symposium, San Francisco, CA, USA.
Mark Bloomston and Tanios Bekaii-Saab have contributed equally to this work and are co-corresponding authors.
Abstract
Background
For patients with metastatic pancreatic cancer, FOLFIRINOX (fluorouracil [5-FU], leucovorin [LV], irinotecan [IRI], and oxaliplatin) has shown improved survival rates compared with gemcitabine but with significant toxicity, particularly in patients with a high tumor burden. Because of reported response rates exceeding 30 %, the authors began to use a modified (m) FOLFIRINOX regimen for patients with advanced nonmetastatic disease aimed at downstaging for resection. This report describes their experience with mFOLFIRINOX and aggressive surgical resection.
Methods
Between January 2011 and August of 2013, 43 patients with borderline resectable pancreatic cancer (BRPC,
n
= 18) or locally advanced pancreatic cancer (LAPC,
n
= 25) were treated with mFOLFIRINOX (no bolus 5-FU, no LV, and decreased IRI). Radiation was used based on response and intended surgery. Charts were retrospectively reviewed to assess response, toxicities, and extent of resection when possible.
Results
The most common grade 3/4 toxicity was diarrhea in six patients (14 %) with no grade 3/4 neutropenia or thrombocytopenia. Resection was attempted in 31 cases (72 %) and accomplished in 22 cases (51.1 %) including 11 of 25 LAPC cases (44 %). Vascular resection was required in 4 cases (18 %), with R0 resection in 86.4 % of the resections. Complications occurred in 6 cases (27 %), with no perioperative deaths. The median progression-free survival period was 18 months if the resection was achieved compared with 8 months if no resection was performed (
p
< 0.001).
Conclusion
Neoadjuvant mFOLFIRINOX is an effective, well-tolerated regimen for patients with advanced nonmetastatic pancreatic cancer. When mFOLFIRINOX is coupled with aggressive surgery, high resection rates are possible even when the initial imaging shows locally advanced disease. Although data are still maturing, resection appears to offer at least a progression-free survival advantage.