01.12.2014 | Clinical Trial | Ausgabe 3/2014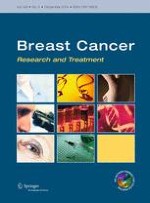 NEOCENT: a randomised feasibility and translational study comparing neoadjuvant endocrine therapy with chemotherapy in ER-rich postmenopausal primary breast cancer
Zeitschrift:
Autoren:

C. Palmieri, S. Cleator, L. S. Kilburn, S. B. Kim, S.-H. Ahn, M. Beresford, G. Gong, J. Mansi, E. Mallon, S. Reed, K. Mousa, L. Fallowfield, M. Cheang, J. Morden, K. Page, D. S. Guttery, B. Rghebi, L. Primrose, J. A. Shaw, A. M. Thompson, J. M. Bliss, R. C. Coombes
Wichtige Hinweise
Electronic supplementary material
The online version of this article (doi:
10.​1007/​s10549-014-3183-4
) contains supplementary material, which is available to authorized users.
On behalf of the NEOCENT Trial Investigators.
Abstract
Neoadjuvant endocrine therapy is an alternative to chemotherapy for women with oestrogen receptor (ER)-positive early breast cancer (BC). We aimed to assess feasibility of recruiting patients to a study comparing chemotherapy versus endocrine therapy in postmenopausal women with ER-rich primary BC, and response as well as translational endpoints were assessed. Patients requiring neoadjuvant therapy were randomised to chemotherapy: 6 × 3-weekly cycles FE100C or endocrine therapy: letrozole 2.5 mg, daily for 18–23 weeks. Primary endpoints were recruitment feasibility and tissue collection. Secondary endpoints included clinical, radiological and pathological response rates, quality of life and translational endpoints. 63/80 patients approached were eligible, of those 44 (70, 95 % CI 57–81) were randomised. 12 (54.5, 95 % CI 32.2–75.6) chemotherapy patients showed radiological objective response compared with 13 (59.1, 95 % CI 36.4–79.3) letrozole patients. Compared with baseline, mean Ki-67 levels fell in both groups at days 2–4 and at surgery [fold change: 0.24 (95 % CI 0.12–0.51) and 0.24; (95 % CI 0.15–0.37), respectively]. Plasma total cfDNA levels rose from baseline to week 8 [fold change: chemotherapy 2.10 (95 % CI 1.47–3.00), letrozole 1.47(95 % CI 0.98–2.20)], and were maintained at surgery in the chemotherapy group [chemotherapy 2.63; 95 % CI 1.56–4.41), letrozole 0.95 (95 % CI 0.71–1.26)]. An increase in plasma let-7a miRNA was seen at surgery for patients with objective radiological response to chemotherapy. Recruitment and tissue collection endpoints were met; however, a larger trial was deemed unfeasible due to slow accrual. Both regimens were equally efficacious. Dynamic changes were seen in Ki-67 and circulating biomarkers in both groups with increases in cfDNA and let-7a miRNA persisting until surgery for chemotherapy patients.