01.12.2015 | Research article | Ausgabe 1/2015 Open Access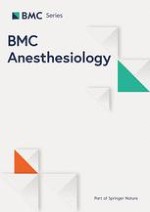 Neonatal effect of remifentanil in general anaesthesia for caesarean section: a randomized trial
Zeitschrift:
Autoren:

Pavlina Noskova, Jan Blaha, Hana Bakhouche, Jana Kubatova, Jitka Ulrichova, Patricia Marusicova, Jan Smisek, Antonin Parizek, Ondrej Slanar, Pavel Michalek
Wichtige Hinweise
Pavlina Noskova and Jan Blaha contributed equally to this work.
Competing interests
PN, JB, HB, JK, JU, JS, AP, OS and PM declare no competing interests.
Authors' contributions
PN and JB contributed equally to this work. All authors have made substantive intellectual contributions to the manuscript. JB and OS designed the study. PN, JB and HB were responsible for conducting the study and analysing the data. PN and JB wrote the manuscript. PM revised the manuscript. JK, JU, PM, JS and AP conducted the study and helped analyse the data. All authors have seen the original study data, reviewed the data analysis, and approved the final manuscript.
Abstract
Background
Remifentanil has been suggested for its short duration of action to replace standard opioids for induction of general anaesthesia in caesarean section. While the stabilizing effect of remifentanil on maternal circulation has been confirmed, its effect on postnatal adaptation remains unclear, as currently published studies are not powered sufficiently to detect any clinical effect of remifentanil on the newborn.
Methods
Using a double-blinded randomized design, a total of 151 parturients undergoing caesarean delivery under general anaesthesia were randomized into two groups – 76 patients received a bolus of remifentanil prior to induction, while 75 patients were assigned to the control group. Remifentanil 1 μg/kg was administered 30 seconds before the standard induction of general anaesthesia. The primary outcome measure was an assessment of neonatal adaptation using the Apgar score, while secondary outcomes included the need for respiratory support after delivery and differences in umbilical blood gas analysis (Astrup).
Results
The incidence of lower Apgar scores between 0 and 7 was significantly higher in the remifentanil group at one minute (25% vs. 9.3% of newborns, p = 0.017); whilst at five minutes and later no Apgar score differences were observed. There was no difference in the need for moderate (nasal CPAP) or intensive (intubation) respiratory support, but significantly more neonates in the remifentanil group required tactile stimulation for breathing support (21% vs. 7% of newborns, p = 0.017). There was no difference in the parameters from umbilical cord blood gas analysis between the groups.
Conclusion
At a dose of 1 μg/kg, remifentanil prior to induction of general anaesthesia increases the risk of neonatal respiratory depression during first minutes after caesarean delivery but duration of clinical symptoms is short.