01.11.2013 | Hauptreferate | Sonderheft 2/2013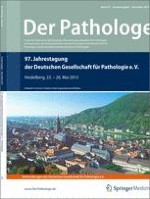 Neue Entwicklungslinien der Immunhistologie
Sichtweise der Pathologie
Zeitschrift:
Autoren:

Prof. Dr. J. Rüschoff, D. Zielinski, E. Heinmöller
Wichtige Hinweise
The supplement this article is part of is not sponsored by the industry.
Die Immunhistochemie (IHC) ist heute aus dem diagnostischen Armentarium eines Pathologen nicht mehr wegzudenken. Im Bereich der Onkologie stellt sie den Eckpfeiler einer verlässlichen histogenetischen Tumorklassifikation (Typing) dar [
5
]. Aufgrund der rasanten Entwicklung neuartiger molekular definierter, sog. zielgerichteter Therapien, kommt sowohl der molekularen Subklassifikation von Tumoren wie auch dem Nachweis therapiebarer Zielstrukturen eine zunehmend zentralere Rolle zu [
19
]. ...