01.10.2011 | Mini Review | Ausgabe 10/2011 Open Access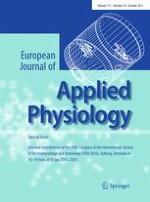 Neural adaptations to electrical stimulation strength training
Zeitschrift:
Autoren:

Tibor Hortobágyi, Nicola A. Maffiuletti
Wichtige Hinweise
Communicated by Roberto Bottinelli.
This article is published as part of the Special Issue Cluster on the XVIII Congress of the International Society of Electrophysiology and Kinesiology (ISEK 2010) that took place in Aalborg, Denmark on 16–19 June 2010.
Introduction
However, there are important differences between conditioning skeletal muscle with artificial and voluntary contractions so that the mechanisms cannot be identical. For example, during a voluntary compared with electrical stimulation-evoked contraction motor unit activation is orderly versus non-selective, contraction intensity is high versus submaximal, muscle activation is synergistic versus targeted, antagonist muscle activation is coordinated versus not-coordinated, and the physiological origin of contraction is "internal" versus "external" by activating branches of motor axons under the stimulating electrodes. Despite such differences, and somewhat puzzlingly, EST compared with VST can still produce similar gains in MVC force.
Spinal adaptations
Increase in MVC force in the absence of muscle hypertrophy
A series of EST studies suggest that neural adaptations mediate increases in MVC force because the increases in force occur without significant muscle hypertrophy (Brocherie et al.
2005
; McMiken et al.
1983
; Pichon et al.
1995
). Although none of these studies measured directly muscle size before and after the training program, the brevity of the protocols, which sharply contrasts with early studies using extreme stimulation conditions that are not adaptable to clinical settings (e.g., stimulation for 3 h per day, 6 days a week for 6 weeks, Rutherford, 1988) (Jarvis et al.
1996
; Pette and Vrbova
1992
; Schiaffino et al.
1989
; Scott et al.
1985
), and the advanced athletic status of the participants indirectly suggest neural and not muscle adaptations are the core moderators of increases in MVC force. For example, after 3 weeks of EST, isokinetic eccentric and concentric torque increased significantly in nine ice-hockey players whose 10 and 30 m sprint skating times also improved (Brocherie et al.
2005
). Likewise, EST of the latissimus dorsi increased the strength and swimming performances of a group of competitive swimmers (Pichon et al.
1995
). These data must be interpreted cautiously because of a lack of direct measurement of muscle fiber size. However, results from studies that did directly measure changes in muscle fiber size, reviewed next, are still compatible with the idea that neural adaptations contributed to the gains in motor performance.
Although there are numerous studies that reported changes in muscle metabolism, none provide compelling evidence that EST, similar to the paradigms used in clinical settings, produces early muscle hypertrophy (i.e., in less than 6 weeks). While there were significant increases in quadriceps MVC force from 1,295 N (±135) to 1,530 N (±131) after a 4 week training period in one study that used 6 min effective EST in each of 15 sessions, these changes were similar to the gains produced by VST without significant changes in enzyme activities, muscle fiber characteristics, or mitochondrial properties (Eriksson et al.
1981
; Kim et al.
1995
; Martin et al.
1993
,
1994
; St Pierre et al.
1986
). Twenty-one days of EST of the gastrocnemius muscle reduced skinfold thickness by 20% and it increased MVC force by 42%, nuclear number per unit area by 37%, mean length of muscle cell nuclei by 14%, and nuclear density by 21% (all
p
< 0.05), muscle fiber size increased moderately (16%,
p
< 0.05) in the 50 Hz stimulation group and by 10% (
p
> 0.05) in the 2,000 Hz stimulation group (Cabric and Appell
1987
; Cabric et al.
1987
). A study using nuclear magnetic resonance spectroscopy after 13–15 min of low-intensity (10% MVC) voluntary or electrical stimulation-evoked contractions of the gastrocnemius revealed that the muscle was more acidic and the muscle cytoplasm was more oxygenated during stimulated than voluntary exercise, suggesting higher levels of glycolysis and oxygen demand (Vanderthommen et al.
2003
). Thus, the data confirmed that electrical muscle stimulation is fatiguing but there was no hint for changes in metabolic pathways linked to muscle hypertrophy. Six weeks of quadriceps EST at 8 Hz, a rate lower than most EST studies, in 20 sedentary, 10 active, and five endurance-trained subjects using 25 consecutive 10 s isometric contractions increased citrate synthase activity, capillary number per type IIA and IIB fibers, and the percentage of type IIA muscle fibers but, again, failed to increase the size of type I, IIA, and IIB muscle fibers (Theriault et al.
1996
). In an EST study similar to the protocols most often used in clinical settings to strengthen healthy and an orthopedic injury-weakened muscle (Bax et al.
2005
), vastus lateralis biopsy samples from ten healthy volunteers who received EST at 45–60 Hz, with 12 s of stimulation followed by 8 s of rest for a total of 30 min per day, 3 days/week for 6 weeks revealed an increased expression of MHC isoform IIA through a shift of MHC-I and MHC-IIX isoforms to the MHC-IIA isoform (Perez et al.
2002
), but these fiber type conversions occurred without muscle fiber hypertrophy. Unlike in previous studies (Brocherie et al.
2005
; McMiken et al.
1983
; Pichon et al.
1995
), these EST-induced shifts in the biochemical characteristics were not associated with improvements in whole-body aerobic performance or neuromuscular function produced by muscles of the entire limb (Perez et al.
2002
). EST over an initial 4 week period failed to increase quadriceps size measured with ultrasound, but muscle size did increase a modest 4% (±2,
p
< 0.001) from week 4 to 8 (Gondin et al.
2005
) and increased up to 12% after 8–9 weeks (Gondin et al.
2011
; Ruther et al.
1995
; Stevenson and Dudley
2001
), suggesting muscle hypertrophy occurred in the late phase of the program. Taken together, these results suggest that EST administered with a clinical dose and parameters for up to about 6 weeks does bring about changes in muscle metabolism and promotes subtle isoform shifts, but the increased MVC force is not the result of overt muscle hypertrophy, but instead, it is mediated by changes in some elements of the nervous system. Therefore, these studies seem to support the idea that short-term EST increases MVC force through neural mechanisms.
Muscle activation
Spinal excitability
Supraspinal adaptations
Brain activation
In total, there is an abundance of evidence to suggest that electrical muscle stimulation activates sensory and motor cortices. There is a need to conduct imaging and TMS studies to provide direct evidence whether EST causes plastic changes in the central nervous system and whether such changes are associated with the increase in MVC force.
Cross education
Perhaps the strongest evidence for neural adaptations associated with EST is the increase in MVC force in the untrained, homologous muscle of the contralateral limb after unilateral EST. Cross-sectional experiments revealed that electrical muscle stimulation compared with voluntary contraction evokes different supraspinal effects even though EST and VST can both increase MVC force (Bezerra et al.
2009
; Farthing
2009
; Hortobágyi et al.
1999
; Zhou
2000
). While healthy volunteers contracted the left wrist flexors isometrically, the amplitude of the motor potentials evoked by TMS increased and the amplitude of the H reflex decreased in the homologous, right wrist flexors (Hortobágyi et al.
2003
). In contrast, when electrical muscle stimulation was used to evoke left wrist flexion, the motor-evoked potentials and H reflex both increased in the right wrist flexors. Superimposition of electrical muscle stimulation on a voluntary contraction of the left wrist flexors, again, increased the TMS response and decreased the H reflex in the right, resting wrist flexors. These observations suggest that electrical muscle stimulation and voluntary contraction have different supraspinal effects in the contralateral homologous muscle. Indeed, 6 weeks of EST with eccentric contraction of the right quadriceps muscle produced over 60% increase in MVC force of the untrained, left quadriceps muscle in healthy young adults (Hortobágyi et al.
1999
). EST was also more effective than VST in producing cross education without signs for muscle hypertrophy (Bezerra et al.
2009
), producing over 30% cross education independent of electrical muscle stimulation frequency (Cabric and Appell
1987
). Finally, unilateral electroacupuncture administered to the right tibialis anterior muscle of healthy adults with a stimulation frequency of 40 Hz, a pulse-width of 1 ms, an intensity of 30–40 V, using eight duty cycles of 1 min on and 1 min off increased MVC force 21% in the intervention and also in the resting, non-intervention left leg 15% (Huang et al.
2007
).
The picture emerging from these studies suggests that EST is capable of modifying the excitability of interhemispheric connections and perhaps the balance between interhemispheric excitation and inhibition. Indeed, when repetitive TMS created a virtual lesion in the exercising brain, the magnitude of cross transfer of ballistic performance learned in one hand was acutely reduced in the non-practiced hand in one session, suggesting that cortical processes within the untrained hemisphere must have contributed to the crossed effects (Lee et al.
2010
). Recent chronic VST studies using TMS and fMRI confirmed that reduced interhemispheric inhibition and increased activation of specific areas in the non-exercised brain are key moderators of cross education in healthy adults (Farthing et al.
2011
; Hortobágyi et al.
2011
). Additional studies are needed to determine whether EST-induced increases in MVC force are mediated by the same supraspinal and spinal mechanisms in healthy humans (Aagaard et al.
2002
; Dragert and Zehr
2011
; Fimland et al.
2009
).
Summary and future directions
A review of the data confirms the hypothesis that in the early phases of EST, like VST, increases in MVC force occur through neural mechanisms without muscle hypertrophy in healthy young adults (Fig.
1
; Table
1
). Although, in several EST studies the stimulation-evoked contractions were much weaker than the contraction intensity used in VST, still, somewhat puzzlingly, gains in MVC force were similar. Increases in MVC force occurred in the absence of muscle hypertrophy. This review found weak support for the involvement of a spinal mechanism to mediate increases in MVC force after EST (Table
1
). There is strong evidence to suggest that acute bouts of electrical muscle stimulation may activate sensory, sensorimotor, and motor areas and possibly interhemispheric paths in the brain. Cross-sectional studies suggest that the potential is high for supraspinal adaptations to occur after EST but there are yet no chronic MRI, TMS, and EEG studies that document supraspinal adaptations subsequent to EST. There is also a need for more detailed information on spinal excitability changes instead of just using a single measure such as H reflex amplitude (Dragert and Zehr
2011
). To determine the net effect due to sensory input associated with EST, there is a need to incorporate in the experimental design a group that receives sham stimulation (Glinsky et al.
2009
; Golaszewski et al.
2010
; Nuhr et al.
2003
; Smith et al.
2003
) or stimulation that is remotely relative to the target muscle (Hortobágyi et al.
1999
). There is a need to conduct placebo-controlled trials in which electrical muscle stimulation is replaced with a non-electrical agent to better understand the placebo effects of EST on MVC force. Unlike many previous studies, future EST studies should measure not only MVC force but also electrical muscle stimulation-evoked forces to gain more precise insights into the task-specificity of EST. Finally, the ultimate goal is to understand neural and muscular adaptations to EST in healthy individuals so that the findings can be safely extended to treating patients' clinical conditions. EST is particularly useful to preserve muscle mass during prolonged periods of partial/total immobilization, as it is the case with patients in an intensive care unit, or who suffer from chronic heart failure, chronic obstructive pulmonary disease, or a stroke.
Table 1
Summary of neural adaptations induced by electrical stimulation strength training in healthy human skeletal muscle
Magnitude of contribution

Spinal

Neural drive (change in EMG)

±

Muscle activation

±

Spinal excitability

−

Presynaptic inhibition

±

Reciprocal inhibition

±

Renshaw inhibition

±

Synaptic efficacy

±

Supraspinal

Cross education

+

Task specificity

+

Sensory cortex activation

+
Acknowledgments
We thank Paul DeVita, PhD and Jean Lambert, PT, PhD for their insightful comments.
Open Access
This article is distributed under the terms of the Creative Commons Attribution Noncommercial License which permits any noncommercial use, distribution, and reproduction in any medium, provided the original author(s) and source are credited.
Open Access
This is an open access article distributed under the terms of the Creative Commons Attribution Noncommercial License (
https://​creativecommons.​org/​licenses/​by-nc/​2.​0
), which permits any noncommercial use, distribution, and reproduction in any medium, provided the original author(s) and source are credited.