01.12.2018 | Research article | Ausgabe 1/2018 Open Access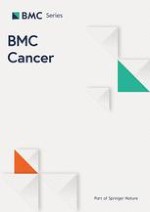 Neuroendocrine carcinoma of the cervix: a systematic review of the literature
Zeitschrift:
Autoren:

Clemens B. Tempfer, Iris Tischoff, Askin Dogan, Ziad Hilal, Beate Schultheis, Peter Kern, Günther A. Rezniczek
Wichtige Hinweise
Electronic supplementary material
Abstract
Background
Neuroendocrine carcinoma of the cervix (NECC) is a rare variant of cervical cancer. The prognosis of women with NECC is poor and there is no standardized therapy for this type of malignancy based on controlled trials.
Methods
We performed a systematic literature search of the databases PubMed and Cochrane Central Register of Controlled Trials to identify clinical trials describing the management and outcome of women with NECC.
Results
Three thousand five hundred thirty-eight cases of NECC in 112 studies were identified. The pooled proportion of NECC among women with cervical cancer was 2303/163470 (1.41%). Small cell NECC, large cell NECC, and other histological subtypes were identified in 80.4, 12.0, and 7.6% of cases, respectively. Early and late stage disease presentation were evenly distributed with 1463 (50.6%) and 1428 (49.4%) cases, respectively. Tumors expressed synaptophysin (424/538 cases; 79%), neuron-specific enolase (196/285 cases; 69%), chromogranin (323/486 cases; 66%), and CD56 (162/267; 61%). The most common primary treatment was radical surgery combined with chemotherapy either as neoadjuvant or adjuvant chemotherapy, described in 42/48 studies. Radiotherapy-based primary treatment schemes in the form of radiotherapy, radiochemotherapy, or radiotherapy with concomitant or followed by chemotherapy were also commonly used (15/48 studies). There is no standard chemotherapy regimen for NECC, but cisplatin/carboplatin and etoposide (EP) was the most commonly used treatment scheme (24/40 studies). Overall, the prognosis of women with NECC was poor with a mean recurrence-free survival of 16 months and a mean overall survival of 40 months. Immune checkpoint inhibitors and targeted agents were reported as being active in three case reports.
Conclusion
NECC is a rare variant of cervical cancer with a poor prognosis. Multimodality treatment with radical surgery and neoadjuvant/adjuvant chemotherapy with cisplatin and etoposide with or without radiotherapy is the mainstay of treatment for early stage disease while chemotherapy with cisplatin and etoposide or topotecan, paclitaxel, and bevacizumab is appropriate for women with locally advanced or recurrent NECC. Immune checkpoint inhibitors may be beneficial, but controlled evidence for their efficacy is lacking.