10.11.2017 | Focus Session | Ausgabe 1/2018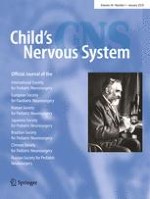 Neurological manifestations of congenital Zika virus infection
Zeitschrift:
Autoren:

Tania Saad, Alessandra Augusta PennaeCosta, Fernanda Veiga de Góes, Marcela de Freitas, Julia Valeriano de Almeida, Lúcio José de Santa Ignêz, Ana Paula Amancio, Renata Joviano Alvim, Ludmilla Athayde Antunes Kramberger
Abstract
Introduction
In 2015, it was observed a rise in the number of microcephalic newborns associated with a history of non-specific febrile sickness and rash during pregnancy in Brazil. Since then, microcephaly has emerged as a public health concern. A few months after, the causal relation between congenital microcephaly and the Zika virus was discovered. Zika virus, an arbovirus, is a new TORCH member that leads to congenital infection through vertical transmission and harms the developing brain, disrupting synaptogenesis, and causing other central nervous system lesions.
Objective
The purpose of this article is to report the congenital Zika syndrome (CZS) and to emphasize the need for follow-up of the affected children to better know the evolutionary history of this new agent and to optimize the provision of healthcare and improve the quality of life of these patients.
Methods
We review the most relevant literature about clinical manifestations and neuroimaging findings related to neurotropism of Zika virus to characterize the congenital Zika syndrome and suggest the systematization of some exams and procedures to evaluate children exposed to ZIKV with or without microcephaly, according to the author's own experience.
Conclusions
Vertical ZIKV infection can cause a wide spectrum of neurological manifestations that go beyond microcephaly, and even the non-microcephalic child should be followed during the first years of life, because infection may be asymptomatic or lead to neuropsicomotor delay, epilepsy, and visual abnormalities. The appropriate prospective multidisciplinary follow-up of these patients aims to understand the natural history of this new agent and to provide a better development and quality of life for them and their families.